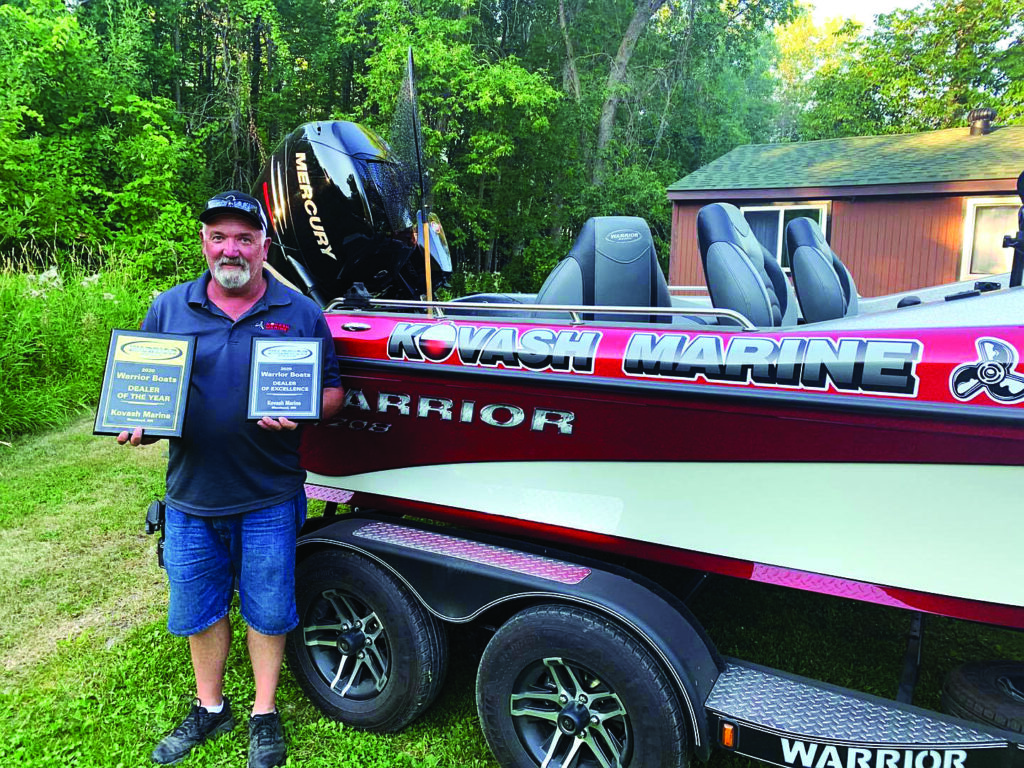 Nancy Edmonds Hanson
Pat Kovash hooked top honors at the Warrior Boats annual fishing tournament on Lake of the Woods Thursday, Aug. 6.
Not only did the owner of Moorhead's Kovash Marine take first place in the fishing tournament among dealers of Minnesota-made Warrior Boats that afternoon, bringing in seven fish totalling 59 pounds. That night, he accepted the Melrose-based company's dealer of the year award … for the fifth year running.
Kovash Marine is a stellar seller of the fiberglass fishing boats that bear the Warrior name. The once-bankrupt manufacturer was purchased and relaunched in 2012 by new owners. Pat's name has been high on the leader board ever since he took on their line the next year, ranking second for two years before taking over the top spot five years ago. "They make the best glass boat in the business," he says. "They're an overbuilt boat – the driest glass boat out there. They may not be the prettiest, but they're extremely functional. You can run them in any conditions."
He has come to practically own the annual award in the most straightforward way possibly – by selling the most boats. The company manufactures between 120 and 130 boats a year. Pat sells one out of five of them. His far-flung customers find his Moorhead dealership through online advertising on Facebook, walleyecentral.com, and Warrior's website, traveling from as far away as Nebrasks, Ohio, Wisconsin and Montana to haul their prized vessels home.
"Warrior owners are sort of like the Harley-Davidson group," Pat observes. "Once you've owned one, you'll never drive anything else." The annual fishing tournament, he adds, is like the gathering of a family: "It's the most amazing thing I've ever seen."
The public tournament that's the centerpiece of the yearly gathering, the Warrior Shoot-Out, has grown in five years from 30 entrants to 118 teams of anglers last weekend. "Now, I didn't do so well Saturday," the Moorhead boat man confesses. "I just came in around the middle of the pack."