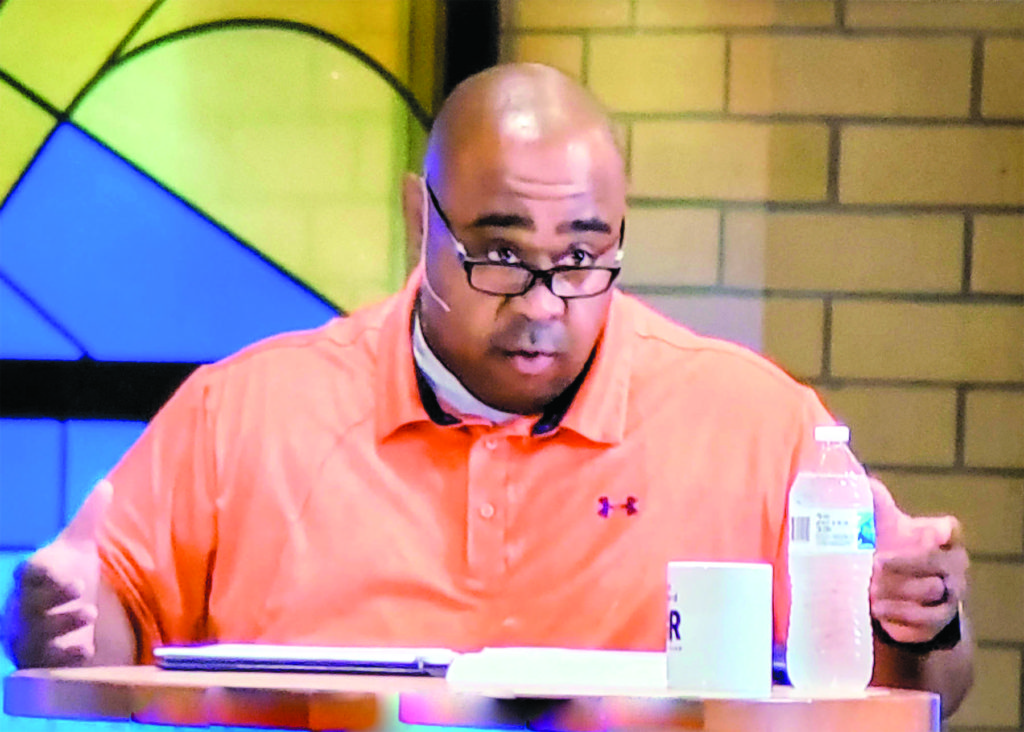 Nancy Edmonds Hanson
"It never gets easier to speak at these types of gatherings," Mayor Johnathan Judd told the 160-plus residents watching online last Thursday.
The occasion was "Leading the Conversation," streamed online from Lutheran Church of the Good Shepherd and hosted by Rev. Mary Suomala Folkerds. The one-hour online event peppered the mayor with questions about racism and how individuals – and churches – could confront the critical topic. Cosponsored by a dozen churches and religious organizations, it brought the mayor, who was elected in 2018, together with Moorheaders eager to confront a topic that makes so many uncomfortable: what racism really means, how it affects people of color, and steps individuals of good will can take to understand and reach out across the color line to heal the wounds of 400 years of American history.
"The thing I love about being mayor of Moorhead is that we are a strong, resilient community – not just individuals, but neighborhoods and institutions within the city," Judd began. He added, "My words are just that – mine. They may be different than others'. I don't want to speak for all people or color or minimize others whose experiences are vastly different than my own."
After sharing several personal stories of clearly racist encounters in his hometown of Raleigh, North Carolina, and in Fargo, where he completed his senior year at Fargo North High School and attended North Dakota State University, Judd was asked what someone should say to local residents who don't believe racism is a problem here.
"The Upper Midwest hasn't had to deal with issues of racism in our history as directly as other parts of the country that have witnessed Jim Crow laws and the civil rights movement," he said. "Racism looks more like incidents of prejudice and bias. The larger issue is institutional racism, institutions that have been built on a foundation meant to exclude individuals. It's more than telling inappropriate jokes or using unacceptable words." It goes far beyond the individual, he explained. "We should be talking about the system itself."
The mayor reflected on his daily walks through every corner of Moorhead. "I've had a couple reasons, frankly. Those walks are why I'm down 110 pounds," he confided. Along the way, though, he has taken mental snapshots of every neighborhood – "what you see and what you don't." He pointed out the obvious, that some neighborhoods are far more diverse than others. "It's no one's fault by any means," he added. The pattern is common in many communities that are racially divided; he added that the evening's discussion was not about socioeconomics: "That's another long conversation."
Instead, he asked why it was so. He shared memories of his days as a student advocate at Horizon Middle School, where there are clearly divides between young people. "Looking at our neighborhoods, our schools, the sports we participate in, we see the divide in many ways. Some are invisible. Some are not.
"Who's to blame? No one is to blame!" he asserted. "Instead of judging, we need to ask the question – why don't we see other folks in these spaces?"
Judd reflected on his own experience as a candidate. "Can you imagine how uncomfortable it was for me to knock and doors and ask for people's votes?" he asked. Though he has lived in Fargo-Moorhead most of the years since 1990, he said it was an enlightening time for him that prompted to grow as a person, a leader and a parent. "We have to talk to each other. Now, that's a little hard for some in this part of the country," he added. "I believe the phrase is 'passive-aggressive.' We need to start this thing by talking to someone we may not know." He clarified, "I mean talking to each other – not talking over them. We need to listen. I want to listen to what you have to say, but you have to listen to my journey, too.
"We have to acknowledge each other's history. We're the greatest country on earth, but we have to acknowledge we still have problems in our house." Institutional racism affects not only people of color but white people, he said. "We have to tell it and deal with it." He repeated, "None uf us are to blame. We should not judge. We need to move forward as brothers and sisters and work our way down this road."
He told of attending meetings of Greater Minnesota mayors. "I can't tell you how many times they've looked at me and asked, 'Really? How does something like this happen?'" He smiled broadly. "I tell them, 'Our city gets it. We just do. It's not that we don't have problems in Moorhead, but good things are happening." He listed several, including people of color successfully running for office. "What we're doing right speaks volumes about our city. I'm proud about how we have inspired others in other community to take a look at what we're doing right.
"I'm proud of our city. In Greater Minnesota, we're a shining star."
Judd pointed out that marches like Black Lives Matter are a great beginning in the fight to right injustice, but that's not enough. The next step is moving forward in a strategic way. Only that will move the needle." first step. Speaking as a civic leader as well as a man of color, he said, "Don't just march. You have to have an action plan so you can hold the community's leadership accountable. That's what will move the dial."
Asked by several pastors what their churches can do, he once again urged them to begin and continue these "uncomfortable conversations" and to specifically invite people of color to tell their stories: "Churches should always be safe spaces for dialogue. Race is not a political issue. It's a human topic. It's moral. It's ethical.
"I hope this is not going to be the last time we all talk about race. People will make mistakes. That's okay," he said. "When we have these conversations, we're beginning to move that needle.
"Change can only start with open conversation. That can be hard for people here in our region. People, we're got to deal with it."
He cited the often-repeated argument by some that they're "colorblind" or they"don't see color."
"You have to see it," Judd said simply. "If you don't recognize I'm black, you don't really see me."
The entire streamed broadcast can be viewed on Lutheran Church of the Good Shepherd's Facebook page.