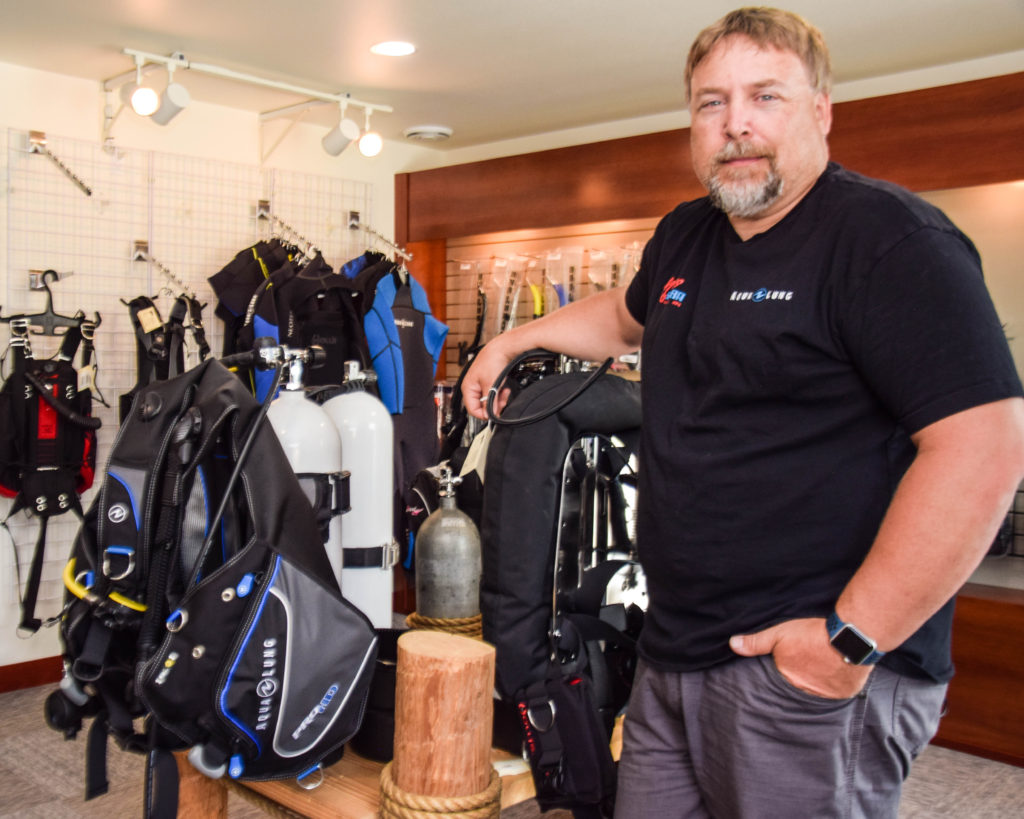 Nancy Edmonds Hanson
Aaron Olson says the decision to move Mick's Scuba, Moorhead's venerable dive shop, was out of his hands. So was the mandate to close its doors shortly after he was ready to open on First Avenue North. But now – major road construction and worldwide pandemic aside – he is back in the water again.
"The city bought out our original location at 421 21st Street South as part of the 20/21st Street underpass project," he explains. Established some 35 years ago by Mike Knorr, Aaron had bought the shop from its next owner, Duane Kashmark, two years ago … when it found itself smack in the middle of the biggest construction project in Moorhead's history.
He and wife Julie had more than a year to find a new spot for their shop, which rents, sells and maintains all kinds of scuba diving equipment. They chose the new business condominiums north of the railroad tracks west of Kovash Marine. They made the move late last winter and had just reopened on March 1 when Aaron says he "had a funny feeling that something was going to happen."
It did. On the weekend of his first dive class, Gov. Tim Walz announced the emergency order to close businesses and hunker down to thwart spread of Covid-19.
"We were going in the water at the Concordia College pool at 8 p.m. I got the call that they were closed at 6," he remembers. He and his instructors scrambled and managed to carry the class off without a hitch, moving it to the pool at Mayville State University in North Dakota. An open dive this weekend at Long Lake in Clearwater County marks their return to the Minnesota side of the border.
Aaron, who grew up on a farm near Plaza, North Dakota, discovered the allure of diving when he came to Fargo to attend North Dakota State University. "I saw Mick's sign, and I was interested," he recalls. "As soon as I jumped in the water, that was it. I loved it!"
After completing a degree in communication at Northwest Technical College in Wadena, Minnesota, he returned to northwestern North Dakota to work for the local telephone company. Eight years later, he came back to marry his college sweetheart, rekindling his love of diving along the way.
He went on to get the whole list of diving certifications overseen by PADI, the Professional Association of Diving Instructors — open water, advanced and rescue diving and more, as well as "dive master" and assistant instructor. He became a full-fledged instructor after passing testing administered by PADI.
Today Aaron is one of half a dozen instructors who train scuba enthusiasts at Mick's, including both Knorr and Kashmark. His wife Julie – who prefers staying on dry land – handles the shop from 10:30 a.m. to 5:30 p.m. Monday through Wednesday and Friday. Aaron himself arrives at about 4:30 on those days after completing his daily assignments for his full-time employer, Red River Communications in Abercrombie, North Dakota, then spends the evening doing repairs and annual maintenance on his customers' diving equipment. He's always on hand there and open on Thursday evenings, when diving enthusiasts are getting ready for their weekends in deep water.
The pandemic has led to some changes in their routine – sanitizing rental equipment from top to bottom with bleach and letting it dry before another diver touches it. "We always cleaned anyway, but now we take extra precautions," he notes. Classes now have half as many students per instructor. Divers are encouraged to keep their snorkels on and keep their distance. "Everything I've read said you're safe when you're under the water," Aaron points out. "It's your time out of the water you need to worry about.
"Once I used to think this would be a great retirement job," he remembers. "Now I still think it will be – but it's also great now.
"Once you learn to dive, you're in for life. There's so much more to do on vacation that sit on the beach. Dunk your head in the water once, and you're hooked … the colors, the fish, the currents. It's always changing."
He adds, "It's fun to see someone's reaction when they first breathe underwater. It's an incredible feeling. You just don't see someone jump in for the first time, then get out and say, 'That's not for me.' I've never heard that – not even once."