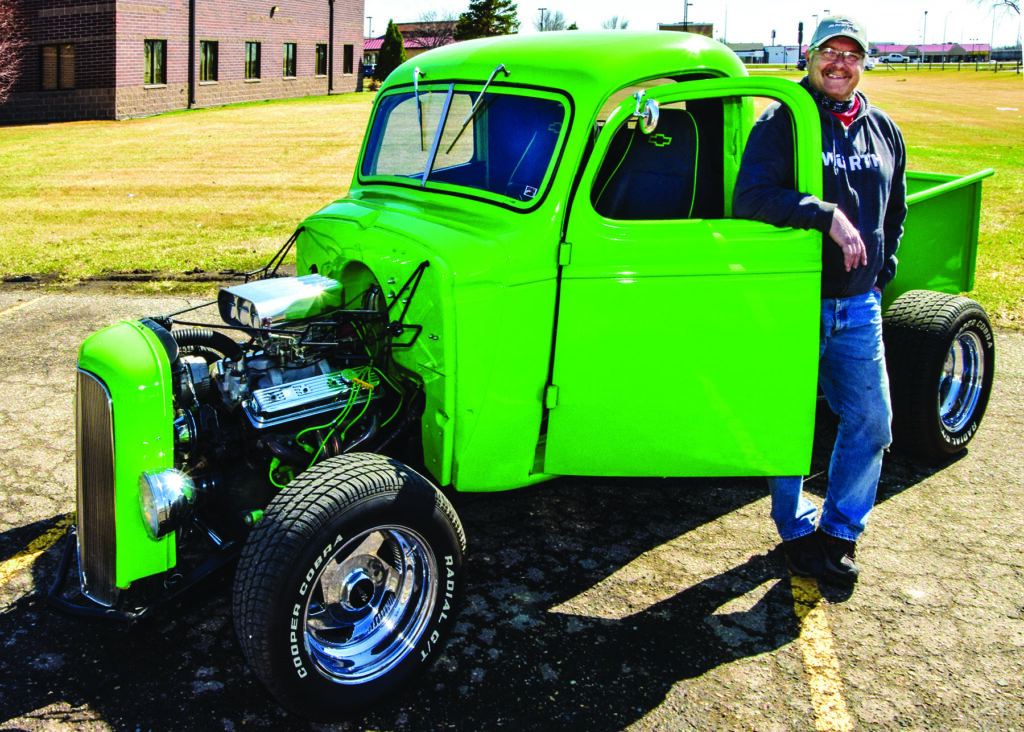 Nancy Edmonds Hanson
The checkered flag is still three weeks away, but Moorhead's Cruise Night is already a winner.
"The line-up is completely full," says Bill Bartholomay of the Valley Vintage Car Club. With 96 classic cars and 29 vendors registered weeks ago, the first monthly event on Thursday, May 6 promises to fill Center Avenue with everyone from avid car clubbers to families looking for a fun night on the town.
Bartholomay says plans for the monthly automotive outings took off in late 2020 when he bounced the idea off Andrew Nielsen, manager of the Moorhead Center Mall and himself a member of the Red River VW Club. "I told him what I had in mind. He said, 'Cool' … and we were off," he says.
Along with Nick Lehr of the Moorhead Business Association, the two put together a pit crew of fellow car buffs to steer the first-ever cruise night on the right side of the Red River. Besides the Valley Vintage delegation, which includes both Bill and his daughter KyLee, the team includes Alex Wieland and Nick Loock of Twisted Royalty Car Club; James Webster of Gentlemen of Speed; Jamz Thompson and Brian Bohanna of Red River VW Club; Matt and Kristi Carlson of Fix It Forward Auto Care; the MBA's Sheri Larson; Downtown Moorhead Inc. president Derrick LaPoint; and Moorhead traffic engineer Jonathan Adkins.
It took some horsepower to get the wheels rolling, starting with an event permit and the City Council's approval to block off Center Avenue from Fourth Street to Seventh. As an official Moorhead event, the city provides insurance. The Moorhead Police Department will have two officers on site to help block traffic, along with members of the Police Volunteers to provide crowd control and give directions.
"This isn't just for car guys," Bill points out. "We're planning something for people of all ages – food trucks, arts and crafts for the kids, some farmers market booths, jugglers, clowns …. Sheriff Mark Empting is even bringing the Clay County K-9s.
"We're looking for a fun atmosphere that's not just about the cars," he explains. "We want the whole community to see some of what Moorhead has to offer. It's going to take place rain or shine. If it rains, we'll move into the ramp."
It's not Valley Vintage's first time around the track with a downtown cruise night. In the early 2000s, the group put together similar events for Fargo's Downtown Business Association that were popular from the start. But when crowds of car-crazed fans started to muscle out shoppers, the dates were dropped. Toppers Car Club picked up the project, holding monthly events on the third Thursday of June, July and August at the West Fargo Sports Area. The first is scheduled for June 17.
After getting Cruise Nights rolling, Bill plans to put the brakes on his all-in leadership. "My dream is to get it up and going," he says. Then, instead of setting up another 501(c)3 corporation to handle its finances, he hopes it will be picked up by the MBA or another sponsor.
The kick-off on May 6 is slated from 5 to 8:30 p.m. Additional Cruise Nights are on the calendar June 3, July 1, August 5 and September 2.