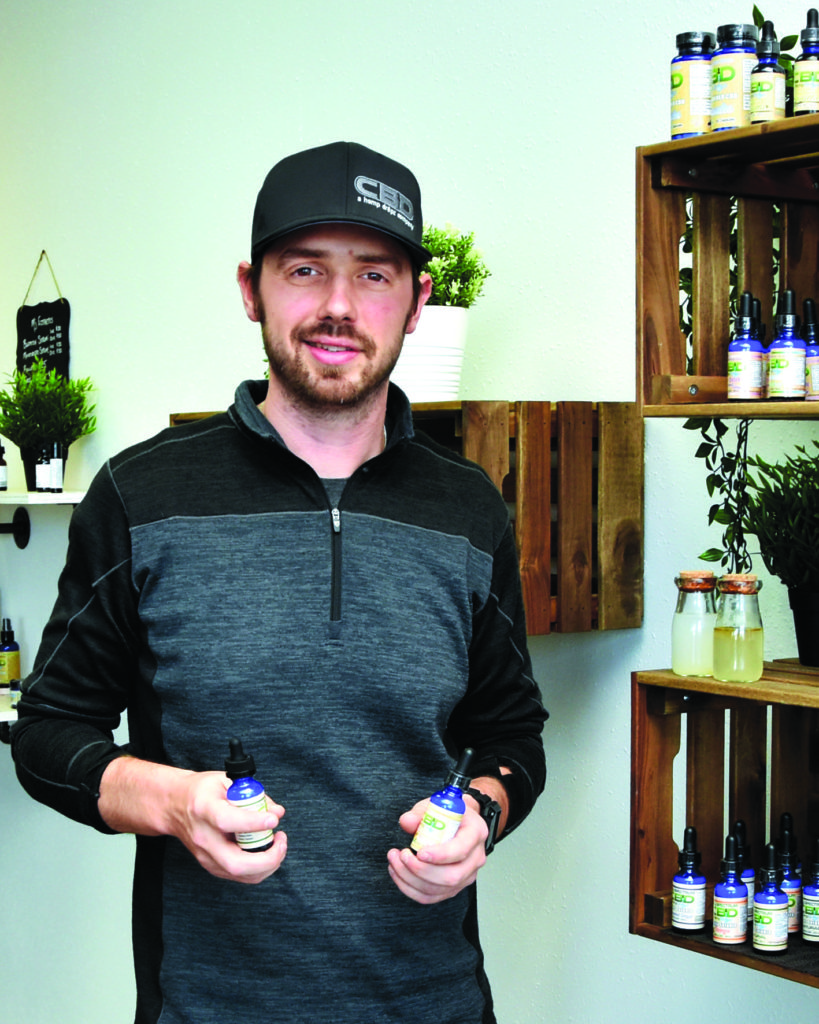 Nancy Edmonds Hanson
Curious about cannabis? Minnesota's medical marijuana dispensaries are still off-limits to many who are curious about the potential benefits of cannabis. But since hemp-based products were legalized in 2018, one component of the long-forbidden plant has suddenly found its way onto retail shelves, from drugstores and convenience stores to online sellers like Amazon.
"CBD of Moorhead was the first store in Fargo-Moorhead to offer a line of CBD-only products," founder Matt Stengl points out. Since last May, when his small store opened along Highway 10 a few blocks west of Target, he and his staff have been educating customers about CBD, the perfectly legal extraction of the hemp plant – believed by many to ease pain and relieve anxiety without the euphoria of its still-controversial prohibited cousin, THC. Since then, he has opened similar stores in his home town, East Grand Forks, and most recently, on 45th Street in Fargo, the first such shop in North Dakota.
Stengl's liquids and topical creams, along with CBD-infused gummies, hard candy, dog treats, vaping solutions and coffee, are derived from hemp … but a separate strain of the Cannabis sativa plant than marijuana. The hemp approved last year to be grown on Minnesota farms has abundant levels of CBD in stalks and seeds. Growers are seeking markets for its fiber, oil and seeds. The approved strain is long on CBD but, unlike pot, contains very, very scant amounts of THC, the powerful intoxicating component – less than 0.3 percent.
Some of the Hempdropz products sold at Stengl's shop contain no THC at all. Others – those labeled as "full spectrum" – do include the same minuscule level permitted in hemp itself. That's what sets Stengl's potions well apart from Minnesota's closely controlled roster of medical marijuana options, like those available at Moorhead's MinnMed dispensary. Products with active levels of THC are available only to patients with medical certification that they suffer from a still-growing list of 16 permitted conditions, from severe, intractable pain and PTSD to Crohn's disease, ALS, AIDS, Alzheimer's, macular degeneration and autism.
But CBD is a different story. Matt himself discovered it when searching for a muscle rub for persistent chronic pain related to his lifetime as an athlete and coach. He's currently in training to run upcoming marathons in Fargo, Duluth and Boulder, Colorado. While he also played soccer and baseball in his younger years, his primary love has always been hockey; after graduating from East Grand Forks High School in 2009, he went on to play in the Canadian junior league and then for the College of St. Scholastica.
Now his knees crack. "I had lost the cartilage in both kneecaps by the time I was 18 or 19," he says. "I had pain before, but as I've gotten older and take less care of my body, it has gotten much worse." Daily use of the soluble CBD preparation provides some relief. He says he also used it in a vaping solution for a time to conquer his habit of chewing tobacco.
The bright, spare CBD shop in east Moorhead carries products manufactured in Colorado for Hempdropz, the Minnesota-based company that has franchised a majority of the stores popping up in the Twin Cities and across the state. Its atmosphere is the opposite of a classic head shop. "When we were getting ready to open, that's what some people expected. We got questions from the city, the police, even the banks – 'are you selling hookah?'" he says. "Not at all. This is something new. I wanted to design a setting for education where everyone can be comfortable. No stony baloney!"
He and his staff spent a good share of their time educating sometimes-timid customers about what CBD may offer them and how to get started. Their products are not regulated by the Food and Drug Administration as pharmaceuticals; instead, they're sold as supplements, barred from making claims for their effectiveness. Most recommendations are based on personal anecdotes from customers who have found relief. Stengl has partnered with two registered nurses, sisters Alexa Doberstein and Carly Johannson, who operate similar shops in Otsego and Brainerd.
In the absence of FDA testing, he cautions CBD neophytes to be careful of the products they try. "Make sure it contains what it says it does, and nothing else," he suggests. He adds that Hempdropz has all its lines tested by an independent third-party lab in Arizona; details of each batch's results can be viewed by scanning the QR codes on the bottles.
Stengl – whose business interests also include a design and sports clothing company, Signature Graphics and Apparel – says the biggest obstacle to marketing CBD products has been the persistent stigma of their association with marijuana. "No one really knows what's what with CBD," he notes. "It's still associated with stoners. A lot of people who could benefit from what it offers are just kind of afraid to be seen coming in.
"When they do, we're glad to take all the time they need to explain the product and how to get started with it." The staff generally suggests starting with water-soluble products, more thoroughly absorbed by the body. They encourage customers to call or come back to discuss their results and perhaps adjust their schedule or dosage.
Two groups dominate CBD of Moorhead's clientele. One is the over-55 crowd, who seek relief from arthritis and other conditions associated with age. The other is athletes like Matt seeking to ease muscle aches and pains: "Your body is telling you something. You need to listen to it."