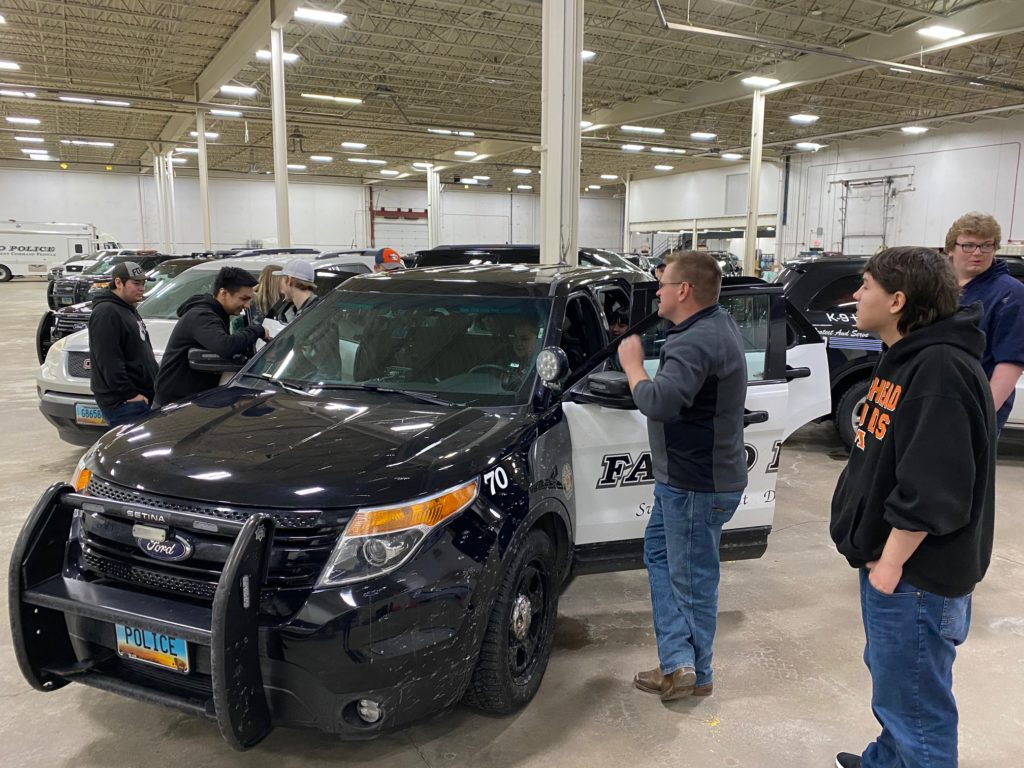 Student Skyler Swenson says that there is a big difference between someone just telling students in the classroom about jobs and being able to see and experience those jobs firsthand. With that in mind, Jamie Church, teacher at the Red River Area Learning Center has worked with Junior Achievement over the past two years to set up meaningful career exploration tours with local businesses.
A group of twenty-four junior and senior students spent a week touring different area businesses this month exploring careers, career paths and job opportunities. "This has become an awesome opportunity for students to tour local businesses and colleges. The students really look forward to it and benefit from the experience," said Church.
The tour week included ten diverse businesses in many different industries to try to represent many of the different career pathways that students may be interested in pursuing. The group visited:
Giant Seeds and North Dakota State College of Science in Wahpeton on Monday
American Crystal Sugar and Hornbacher's on Tuesday
Fargo Police Department and Coroner's Office on Wednesday
Casselton Vet and Fargo Jet Center on Thursday
Salon Professional Academy and Microsoft on Friday
"The tours sparked my interest in different career opportunities," said Keylan Brady. Students not only enjoyed exploring various career paths, but also learned what skills employers are seeking according to Melia White. "The tours gave us information on what they are looking for in future employees. This is information that we can use now and in the future to gain meaningful employment."
Students also learned the variety of careers that are available within organizations. "Each business had more careers to offer than what I thought; for instance, the Jet Center does more than just fly planes. They work with NASA, fix planes in house and many other things. Microsoft isn't just computer jobs. They have many more career opportunities within the company. They hire many lawyers, accountants, and others," said Selena Martinez.
Counselor Janel Simonson works individually with students on career planning. "We are helping to open our students' eyes and minds to careers that they may not have thought about as an option for themselves. We have students that are setting goals and working toward not only graduation but future careers."
The tours are followed by six weeks of classroom instruction with Junior Achievement volunteer Kelsey Gordon, Operations Program Manager at Microsoft. During this program, students discover a career success toolbox that includes creativity, critical thinking, communication and collaboration skills. "It's really developing the soft skills that will help students to be ready to succeed in the workforce," said Gordon. "I wish I would have known about and worked on these skills when I was their age." Kelsey grew up in Arizona and graduated from an alternative school. She has a heart for students. "I love hanging out with you guys," she told the classroom. "You motivate me. You inspire me."
The program is a hit with students and the number of students participating has doubled. This is due in part to teacher Jamie Church's relationships and investment in the students. "She is amazing and has such a passion for seeing the kids succeed," said Junior Achievement District Director Karen Berntson.
At the end of the class, students will have the opportunity to attend a career event at the Microsoft campus. The event includes information on careers, scholarships and career programs at local schools; resume writing with an expert from Chicago; robotics seminars and lots of cool technology prizes and giveaways.
"Career exploration is essential to our programing. Finding what inspires a student helps unlock their potential. Our staff care about our kids and our programing is directed at helping students succeed. This program helps kids to envision possible future careers and provides tools and support to prepare for the future they choose," added Josh Haag, RAALC Principal.