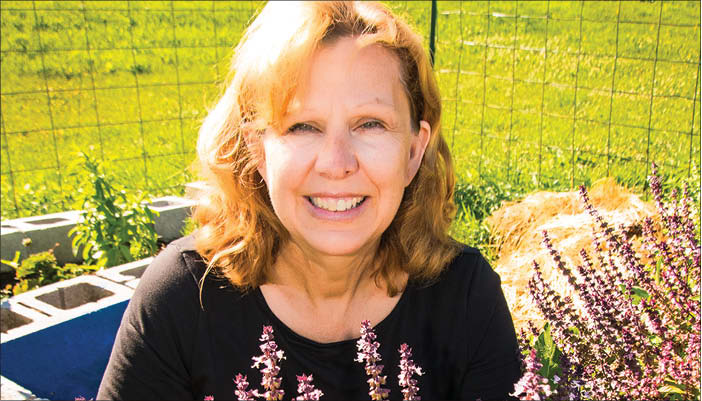 The familiar honeybee buzzing among your zinnias is something of a carpetbagger. Not only that – she's a prima donna.
"Honeybees are a European import," says Noreen Thomas. "We love them, and we love their honey – but raising them is a lot of hard work."
Instead, the dedicated organic farmer – who with husband Evan operates Doubting Thomas Farm north of Moorhead – celebrates the 400-odd species of bees that are native to the Midwest. They're the hard-working pollinators who keep the natural prairie blooming, enable countless fields to flourish, and bring forth the summer's bounty of everything from apples to zucchini.
Noreen and her family have lived the organic farming life for 20 years or so. Their acreage 10 miles north of the city accommodates a wide variety of crops grown without chemical pesticides and fertilizers. Fields of organic wheat, rye and oats yield harvests that will be milled into specialty flours and cereals. Their blue and yellow corn goes into the popular gourmet blue corn chips. They're experimenting with red corn this summer at the behest of General Mills, which hopes to use it for natural food coloring. Other acres accommodate very rare Native American corn that looks far different than the chubby cobs in the grocery store; that's destined for the White Earth Reservation's native foods enterprise.
High-protein food-quality soybeans are prized by Japanese food processors making miso and soy sauce. The Thomases' alfalfa and barley – sprouted into a nutrient-rich fodder – go to the Wisconsin-based Organic Valley Cooperative, where they're fed to the cattle that produce organic milk and cheese.
From early spring to late fall, the busiest creatures in their fields – aside from the Thomases themselves, student interns and a bevy of helpful visitors of all ages – are the bees. You'll see two types in their gardens, orchard and field. Plenty of fuzzy yellow-striped honeybees buzz among their vegetables, flowers and apple orchard, but they are boarder hives from Three Bears Honey, Paul Luthi's neighboring apiary. Noreen, though, has become a bee-liever in the less familiar varieties that fly, often unnoticed, the friendly skies of Clay County and neighboring areas.
The biggest native bees are the 20-some species of bumble bees, often the first to be seen in the spring. Their cousins are more easily overlooked, from the leafcutter bees that leave tiny harmless holes in alfalfa to the squash bees that nap in pumpkin blossoms, assassin bees that lay their eggs inside pesky flies (and thus exterminate them), and countless other helpful varieties, many of them as tiny as a grain of rice. One difference: Unlike the touchy honeybees, most native bees don't sting.
"You may mistake many of them for flies or some other kind of insect," she says. "If you don't take the time to look, really look, you probably won't notice them at all.
"But native bees are the hardest workers around," she notes. "It takes a whole hive of honeybees to pollinate an apple tree … but only one or two native bees. They get started earlier in the spring and get up earlier in the morning." She adds, "They compete with honeybees, but the synergy seems to benefit both of them. They seem to do better together."
The Minnesota Department of Agriculture is committed bee research, both of the honey producers and the native species. Natives, unlike their immigrant cousins, are generally what Noreen calls "anti-social types." Instead of living in hives governed with a complex social structure, they tend to be solitary. They live in undisturbed natural areas – some in burrows underground, others in crevices in trees and overgrown foliage.
While honeybees are raised, of course, for the honey in their hives, native bees' gifts to nature are of a more down-to-earth sort. That's led Noreen to a three-year research project funded by the Department of Agriculture investigating ways that farmers can encourage and support native bee populations while generating a return on their time and trouble.
"What's most important to nurture the bees is having a continuous source of food with spring-to-fall plantings," she explains. The smaller natives don't range as far as European honeybees; close-to-home alternatives are important for nurturing the population.
She cautions gardeners intent on building habitat to avoid seeds and nursery plants treated with the common pesticide family called neonicotinoids. Research has linked it to bee deaths across the country.
"Think like a bee," she advises. "Old-fashioned single blooms are most attractive. There's less for them in the highly hybridized fancy varieties – the doubles, the unusual new introductions."
She says she's learned a lot from her research into bee habitat. One lesson came in the first year, when she crafted charming teardrop bee houses of natural materials. "I did get some bees laying eggs there, but I was horrified when they hatched – birds were all over them dining on their larva!" Better, she says, to provide the kind of natural cover the little loners prefer, including leaving some garden refuse standing over the winter to shelter them.
She has developed a half-mile, four-acre patch of plants chosen to nourish her bees … and to generate a modest income for other farmers who set aside land to follow her lead. Noreen grows both wildflowers and zinnias, as well as spring herbs that can be brewed as teas. Girl Scouts tend, cut and market her flowers at farmers markets and other venues, including wedding décor. She markets her chamomile, mint, basil and prairie rose hips herself in the Doubting Thomas Farm booth at the Red River Market and other local events, along with their other products -–rolled oats, granola, mushrooms and other often-unique foods. She also supplies several local restaurants.
And as her gardens and fields grow, she has forged other alliances. She has worked closely with entomologist Bryan Bishop of Concordia College's science faculty, who brings students to the farm to study bees. Residents of Serenity Assisted Living, where one of her sons is employed, are welcome at the farm through the Garden Able Gifted Learning Project. They plant and weed and pick vegetables in garden areas adapted to their physical limitations – for example, strawberries grown vertically on the side of buckets. Some 200 visit every summer.
Noreen has a long-standing alliance with native farming advocates on the White Earth Reservation, where another Ag Department project is delving into crops like hazelnuts. She's on the program for their Indigenous Farming Conference next March.
Perhaps her biggest contribution is the bee-friendly education she provides through Moorhead's Community Education. She has taught a class called "What's All the Buzz About? Fall Bee Habitat."
On Saturday, Sept. 17, she leads Community Ed's annual Local Foods Mystery Tour. Her bee habitat and the rest of the Thomases' innovative operation are one stop on the day-long bus tour. The White Earth hazelnut project is another. The third? It's the "mystery" in the title. Participants will gather at 7:45 a.m. at Cashwise Foods. To register, go to https://communityed.moorheadschools.org.
Noreen, who's never been stung by one of the native bees she has bee-friended, recommends taking life slower and giving it a closer look. "We're always going so fast. We don't take time to really see what's all around us, like these insects that help feed us," she says. "It's so easy. Observe – look for what's going on in the morning and evening, and in different seasons.
"They're there. You'll see them. It's a whole different world."