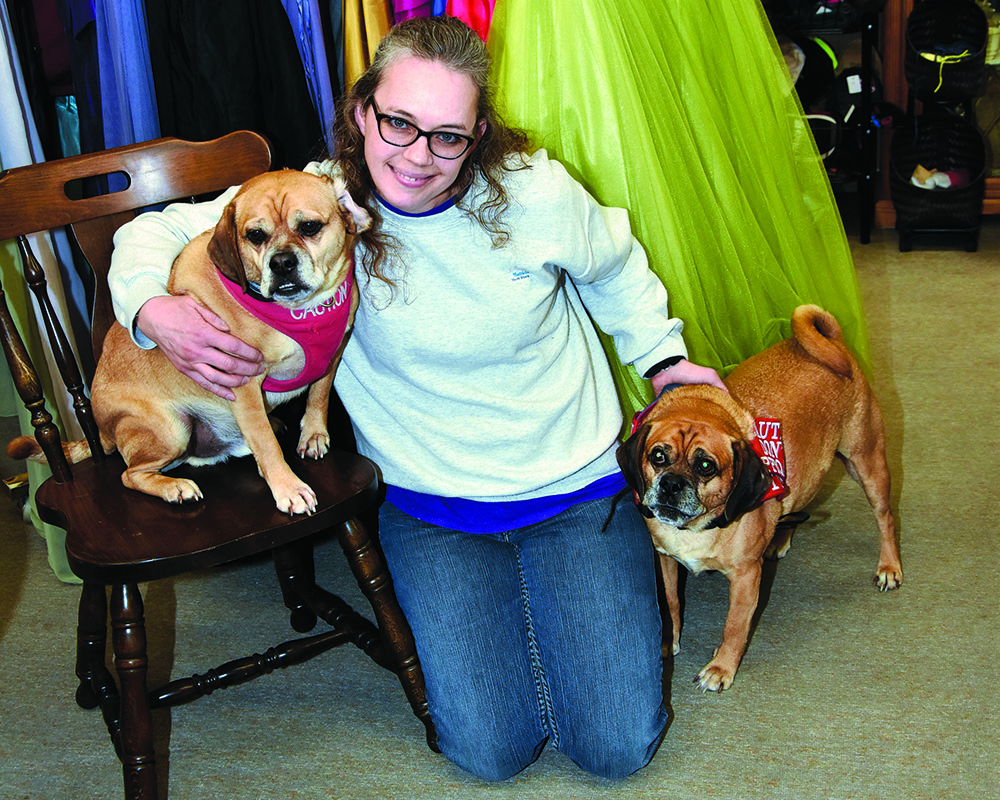 Nancy Edmonds Hanson
It started a decade ago when Wendy Cowan couldn't afford veterinary surgery for her young cat's severed paw. Faced with a bill she couldn't begin to pay, she had to take the agonizing alternative. The little tabby Mumbo was euthanized. "He was just nine months old," she remembers. "He never got to have a life."
Now Jazzy and Mumbo's Animal Aid Thrift Store does its best to help other pet lovers facing the same dilemma. The small second-hand store on Highway 10 in the heart of Dilworth dedicates all of its revenue – less its unavoidable overhead of power, heat and snow removal – to helping pet owners save the lives of their beloved dogs and cats.
"We can't pick up the whole cost of veterinary care," Wendy says. "We just don't have enough money to make that happen. But we try to offer what we can to responsible pet owners who are trying to do their best for their pets. It's not everything, but it helps."
Jazzy and Mumbo's fills in a gap that other, larger animal welfare organizations cannot. It doesn't rescue homeless pets and match them with forever homes. Instead, it aims its hard-won funds at animal health care.
Few think about the cost of medical and surgical services when they care for a pet – not until the worst happens. "Then it can be absolutely staggering," she reports. "Even pretty basic care can run into the hundreds or thousands of dollars. Veterinarians won't help your animal if you can't pay the bill."
That's how her thrift store came to be. Starting with her own and friends' resalable giveaways, she has built it into a modest success story. Originally located in West Fargo closer to her home in rural Mapleton, she moved to Dilworth six years ago. Since then, she has depended on a corps of five loyal volunteers to keep the doors open from 9 to 6 on weekdays and 10 to 6 Saturdays. Wendy herself, who works full-time at Braaten Cabinets in Kindred, works every Friday and Saturday – sorting donated clothing and household items, helping customers find what they're looking for, listening to pet owners' tales of their furry friends' troubles, admiring countless pet photos, and keeping the little store running.
"After Mumbo, I realized, 'There's got to be other people in the same boat,'" she remembers. Along with their three teen and adult children, she and husband Todd – a concrete finisher – harbor a crew of furry and feathered family members on their homestead, including six dogs, three cats, a horse, two donkeys, 60 chickens, eight roosters and seven ducks. Two of the dogs, puggles Dozer and Ratchet, often accompany her to the store on Friday and Saturday. Both wear "caution" vests. "They look cuddly, but they nip," she confides.
Back when her charity was just a gleam in Wendy's eye, did the family agree to her devoting most of her spare time to Jazzy and Mumbo's? She laughs. "I said, 'I'm going to do it. You be quiet.'"
Pet owners hear about Jazzy and Mumbo's pet aid mostly through word of mouth, she says, or on Facebook. "They email or come in with their stories. They're so hard to hear.
"They have to pay part of their bill themselves. If we have money at the moment, we try to help, but we just can't pay the whole thing." She adds, "There's a lot more people out there who need help than you'd think. So many good people live paycheck to paycheck, and being hit with an unexpected cost just kills them. I'd much rather help than have their pet suffer."
Cash donations, as well as merchandise, keep the doors open and the aid coming. But fund-raising is not Wendy and her crew's forte. As a small nonprofit with annual revenue of $40 to $45,000 dollars, her pet aid program is too small to qualify for Giving Hearts Day; nor could they afford to divert $825 to participate in the program.
Instead, she counts on fellow animal lovers to remember the cause of pets and pet owners in need … just as they supply the clothing, dishes, toys and knick knacks she sells and volunteer in the shop. "I'd always like more – more shoppers, more donations. If I don't get sales, I can't help.
"When I can help somebody who really needs it, that's the best," she says. "That's what keeps me going."
For more information, visit www.jazzynmumbosthriftstore.com or search "Jazzy and Mumbo" on Facebook. The store is located at 123 Center Ave. E. in Dilworth.