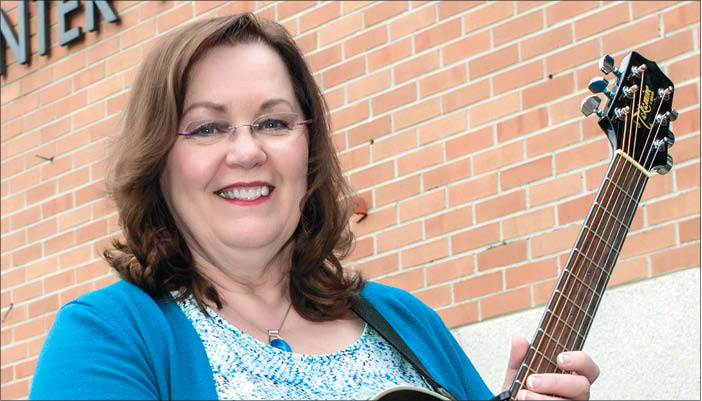 "What's wonderful in this community is how everyone – parents, teachers, businesses — all will do anything we can to help our kids," says Susie Nickell of Moorhead. Case in point: the Gooseberry Park Players.
More than 100 aspiring actors, singers and dancers from 11 to 18 came out last month to audition for "Bye Bye Birdie," the summer theatre program's midsummer musical. This week, 65 of them received the news that they'll be starting rehearsals in June after the school year ends, as well as learning technical skills, constructing sets and doing all the other tasks required for the nonprofit company's 29th production July 13–17.
Susie and her husband Gary, a professor of psychology at Minnesota State University Moorhead, have been part of the parental volunteer contingent that propels the Gooseberry Park productions since 2012, when their son John appeared in "How To Succeed in Business Without Really Trying." A real estate agent with Town & Country Realty, she points to two aspects of the Players that make it unique among summer arts programs.
"Our productions are open to children beginning at age 11, when they can get their first taste of theater and learn from the older teenagers in the cast," she notes. "And all it costs them and their families is sweat equity. There are no fees involved."
The sweat equity – a minimum of 30 volunteer hours for each family – builds more than successful shows, she says. It has created a close community, contributing to the family atmosphere for which the group is known.
While the Nickells' son has graduated and gone on to college, Susie and Gary remain deeply involved. He's president of the nonprofit's board of directors. She recruits sponsors and sells ads in the playbill that helps support the annual budget. She's also the floor manager during its productions, which since last year have taken place at MSUM after the conclusion of the Straw Hat Players' season, and helps organize hospitality events for the whole extended crew.
The Colorado native has come a long way from her own teen years, when she taught herself the guitar and, by 13, was performing her own country songs for senior citizens and others around her hometown of Colorado Springs. After high school, she enrolled at South Colorado State College in Pueblo, majoring in music education and minoring in theatre.
She enlisted in the U.S. Army three years into her education, tempted by the prospect of singing with the Army band; instead she ended up running the mess hall at Fort Jackson, S.C. After three years, she returned to civilian life, performing with her own musical group. Soon, though, she was back in uniform, when the Air Force Academy Band recruited her for her dream job.
"I traveled 200 days a year for the next 10 years," she remembers, spending the first five as a member of the band's pop group, Moods in Blue, and the rest in Wild Blue Country. The latter brought the great thrills of her life – performing onstage at the Grand Ole Opry a total of four times.
"I loved my job," she reminisces. But then fate stepped in. In 1990, the first young man who'd ever asked her out as a teen showed up at her door again, all grown up. They were married in 1992. Gary Nickell had just gotten established in MSUM's psychology department, and Susie followed her heart all the way to Minnesota. "I thought it might be terrible to live in this little town," she recalls. "Instead, I love everything about it."
She expected to take time to relax after 10 years on the road. Instead, she soon completed a degree in elementary education and music at MSUM and became a substitute teacher. "I taught whatever they needed that day," she says. "I always took my guitar along with me. I could bribe kids to pay attention with the promise of some singing at the end of the day."
She also spent a year or two with the local group County Line, but gave it up: "I just didn't want to travel anymore." She continued, though, to play and sing at weddings and events at the Plains Art Museum and elsewhere, as well as the praise band at Lutheran Church of the Good Shepherd, until a serious health problem changed everything nine years ago.
"It was a long, slow recovery. I couldn't teach anymore because of issues with my immunity," she explains. Eventually she became a Realtor. In the meantime, though, she found a new outlet for her passion.
By that time the Nickells' son John was junior high, with daughter Annie a year behind him. John's involvement in theatre and speech, followed by his sister, led the whole family in a new direction. "Theatre, music and speech are a family affair, just like sports," Susie notes. As their children became more and more involved in theatre and speech, she and Gary became – and stayed – involved.
Their children are nearly grown now. Annie, who graduates in June, is one of the 19 Moorhead High speech competitors heading for the national finals. John is a freshman at MSUM. But the family tradition of volunteer involvement is still going strong.
When the lights go down and the orchestra plays the first notes of "Bye Bye Birdie" three months from now, Susie and Gary and many other volunteers will never take center stage. But you can be sure they'll be standing in the wings, watching the whole cast of fledgling performers lift their voices and soar.