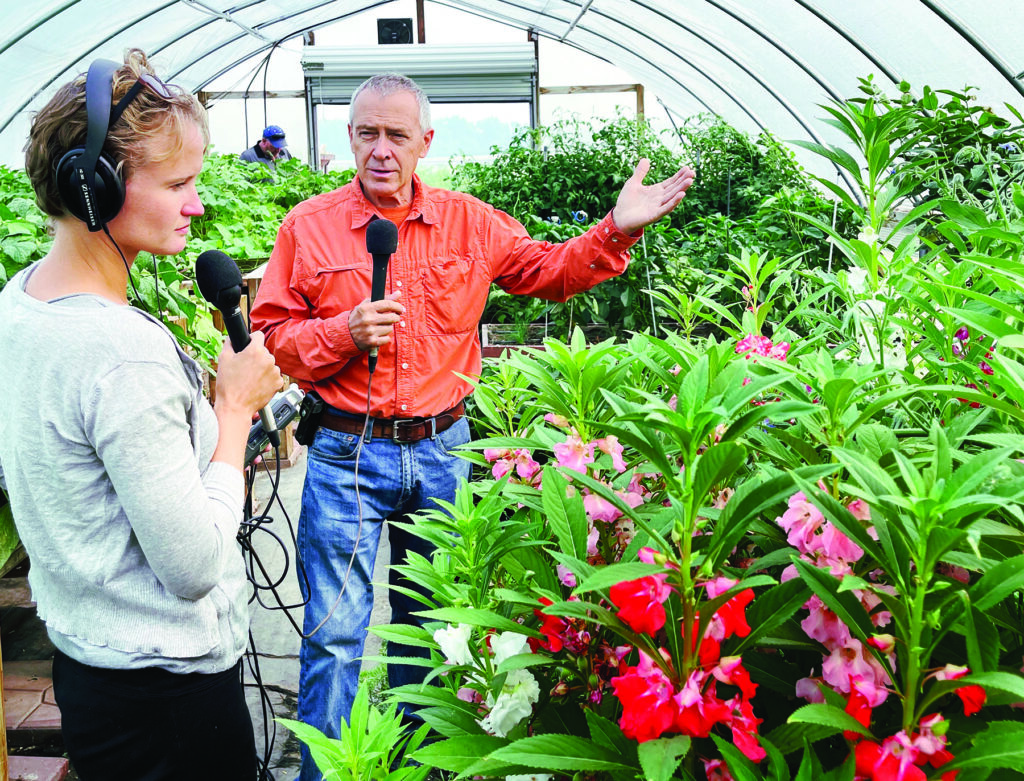 Nancy Edmonds Hanson
In its 63 years on the air, Prairie Public Broadcasting has brought the world to our slice of the Upper Midwest — first from its headquarters in Fargo-Moorhead, and now through its own network of satellite stations across much of the Upper Midwest. Its signals carry its cultural, entertainment and educational programs across the borders as well, crossing the Red River to the Minnesota side and, via cable systems, to Winnipeg and the rest of Manitoba.
Today, local and regional productions highlight the schedules of both its network of Public Broadcasting System television and National Public Radio stations, spread generously from corner to corner of North Dakota. Their audiences, of course, cross the borders, from Moorhead up and down the Red River to Winnipeg and the rest of southern Manitoba, where TV is carried by cable. Increasingly, too, the internet plays a role. Radio podcasts and streamed video productions have broadened its reach far beyond its roots.
President John Harris applauded the support of members and the state of Minnesota at an appreciation dinner in Moorhead Nov. 9. Speaking to a packed house at the River Haven Events Center, he emphasized the spectrum of programming available on television and radio — over the air, on cable and streamed via the internet.
While dramas and comedies with a British accent are closely associated with the TV stations' hits (think "Downton Abbey"), other viewers are drawn to lifelong learning through productions focusing on science, history and current events, or the rich library of how-to shows, from home repairs to cooking, sewing and "Painting with Paulson." Top-quality children's programs have drawn generations of families, as has the educational content prized by educators.
Local productions, however, make the tightest connection with the neighborhoods that surround the venerable broadcast powerhouse. KFME's regional coverage dates back to the 1970s, when "Spin," a regional magazine, and "North Dakota This Week," a weekly news round table, went on the air. Today, both Prairie Public TV and Radio turn the spotlight on the area's newsmakers and creative talents. From Dave Thompson's highly respected radio news coverage to Barbara Gravel's arts coverage on "Prairie Mosaic" and Harris's own "Prairie Pulse" interviews, the stations' regional setting is covered deeply and well.
Some voices are especially fresh. Children from kindergarten through third grade will take part in the just-announced 2023 Prairie Public PBS Kid Writers Contest. The youngsters are invited to write and illustrate their own stories. Winners will be announced in March, with their entries posted on www.prairiepublic.org. They'll also get to read their tales live on the air. Every entrant receives a certificate achievement; the top story-tellers win prizes.
Sometimes the storytellers come to us. The hosts of one of National Public Radio's most popular programs, "The Moth Radio Hour," are presenting a live event, "The Moth Mainstage," Dec. 1 at the Fargo Theatre. Executive producer Sarah Austin Jenness told Ashley Thornburg, who hosts PPR's daily "Main Street," that one reason for coming to Fargo was that the area has the highest per-capita downloads of "Moth" podcasts in the nation — some 40,000 per year.
The region's talent is spotlighted in "Prairie Mosaic." From musicians and artists to experts in traditional craft, the programs showcase creativity based in Minnesota and North Dakota. Among upcoming performers are Kyle Colby of Perham, The Hero and the Villain from St. Cloud, and Walking Phoenix and Nicole Jasperse, both of Moorhead.
"Dakota Datebook" has been adding historical context to listeners' knowledge of the region for nearly two decades. Broadcast during "Main Street" (also available online and in area newspapers) focuses its attention on Native wisdom in a new series beginning in November. A collaboration of Prairie Public and the North Dakota Native American Essential Understandings Project, it draws on stories and wise conversations shared by North Dakota tribal elders. Educators Scott Simpson and Sharla Steever crafted the broadcasts from interviews about native culture, history and lifestyles.
At the Moorhead event, Harris noted that 60% of North Dakota households tune in to PPTV at least once a month. "Radio listenership is harder to judge and capture," he conceded, but estimated it at 35,000. The organization's membership is generally stable at about 15,000, around 2,500 of them based in Minnesota and 900 in Clay County. Another 3,500 live in Canada.
Member support, including individuals, corporations and foundations, represents "one leg of the three-legged stool" that supports the noncommercial broadcaster, according to its president. PBS continues to receive federal funding. "Certain people don't think it should," Harris quipped, "but it somehow does seem to find bipartisan support in the end."
Other funding comes from the states of North Dakota and Minnesota. While North Dakota's appropriation of $1.4 million is less than in the past, Harris said the stations are requesting it be upped to $1.8 million in the next legislative session, along with a separate request for $1.7 in capital funding.
Minnesota has appropriated $4 million to be shared among the state's five public TV stations as well as Prairie Public, with its substantial audience across the border. In Minnesota, support comes to $1.79 per capita, according to the Current public media website's most recent numbers; North Dakota's investment is $1.13 per person.
To see and hear the entire spectrum of Prairie Public broadcasts, including local productions and educational content, go to www.prairiepublic.org.