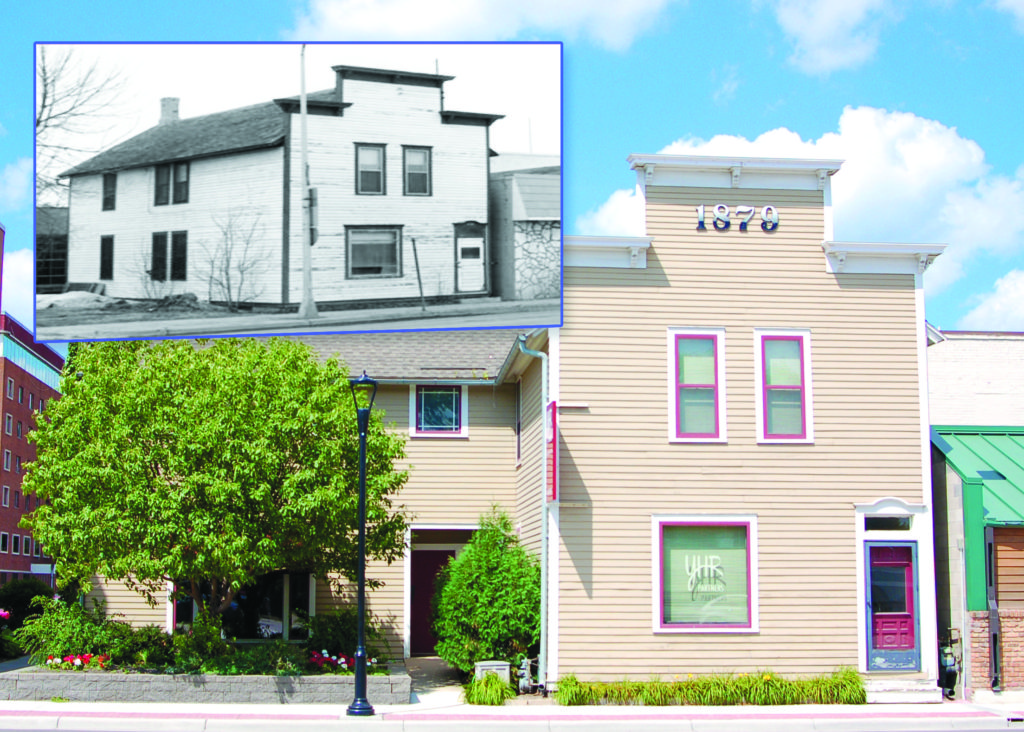 Nancy Edmonds Hanson
Moorhead has opened applications for a second round of forgivable loans to help spruce up businesses in the downtown Renaissance Zone. The deadline for applying to take part in the second round of Storefront Rehab Program funding is March 31.
Established in 2018, the city offers interest-free loans of from $5,000 to $25,000 to eligible businesses in older buildings that could use a fresh new look with doors, windows, awnings, exterior graphics, exterior lighting and other facade or permanent landscape improvements. The funds can't be used for general property upkeep, parking areas, roof repair and removable signage.
Applicants must provide an equal amount in matching. After five years in the location, the balance of the zero-interest loan can be forgiven.
Two familiar landmarks have already taken part in the program – First Avenue Promotions at 1408 First Ave. N. along with two adjoining tenants, Sol Ave.Kitchen and Junkyard Brewing; and YHR Partners, the architectural firm located at 408 Main Ave. Most of the work is complete at the former, while the YHR building will get its new windows and doors, siding and lighting this summer, along with rehab work on its period trim.
Last summer's construction at David Hunstad's complex on First Avenue had two main goals. "With Junkyard using the area between its building and the street for outdoor seating, we needed a safety upgrade," he said, explaining the substantial concrete barriers that now separate the front-yard picnic area from the heavily trafficked avenue.
Aesthetics also played a big part in plans for the structure, built by a bee keeper in the 1940s. It had been added onto repeatedly by the time Hunstad purchased it in 2008 to house his screen printing and Old Lutheran specialty business. In recent years, his tenants to the east have made it a popular destination for Moorheaders – one that takes advantage of fine weather with garage doors open to the outside. He constructed a expansive pergola to shade and define the southern exposure for four-year-old Junkyard Brewing and neighboring Sol Ave Kitchen, which opened last fall. Both got exterior facelifts, too. along with First Avenue Promotions. The final touches will be completed this spring.
YHR's building at 408 Main Ave. is believed to be the oldest structure of its kind in the city that's still at its original location. Then known as the Burnham Building, it was constructed in 1879 to house an early business. Over the years it served a variety of purposes, including a private residence. It has been listed on the National Register of Historic Places since 1980.
The architectural firm carried out a major remodeling in 1984 when it purchased it for its headquarters. Today, though – says Margaret Follingstad, a principal in the firm – its high-traffic location amidst splashing puddles and plowed banks of snirt has taken a steady toll on the exterior. The Storefront Rehab Program loan will underwrite a major project this summer to replace the battered lap siding and trim with siding of cement and cellulose fiber that will do a better job of resisting the elements. All windows will get historically appropriate replacements with higher thermal ratings. Exterior lighting will be added, too, to wash the front of the building to show off its features and give it more presence.
The loan fund is run jointly by the Moorhead Economic Development Authority and Fergus Falls-based West Central Initiatives, which manages the umbrella Moorhead Loan Fund from which the rehabs are funded. The total amount approved for the program two years ago was $200,000; more than half remains for future projects. Though funding is described as a loan, it functions more like a grant – requiring applicants to match the awarded amounts. After occupying the improved building for five years, the loan balance is forgiven.
More information on the Storefront Rehab Program, including a downloadable application, is available online: cityofmoorhead.com/business/incentive-programs/facade-loan-program. Inquiries may be directed to economic development program manager Amy Thorpe, (218) 299-5441.