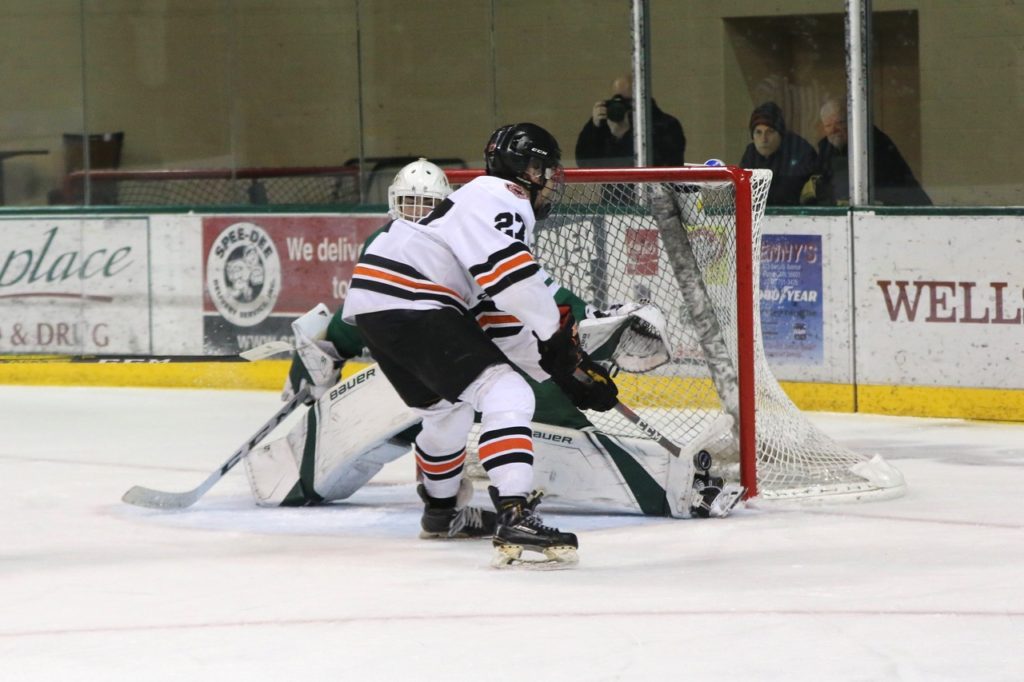 Moorhead punched their ticket to the Minnesota State Hockey Tournament on Feb. 26 in Bemidji. After defeating Bemidji in the first round of play, and easily handling St Cloud Tech on Feb. 22 with an 8-2 victory at home, the Spuds traveled to the Sanford Center to take on Roseau for the trip to state. Caden Triggs scored the only goal in the first period of a well skated and well defended game. Triggs was assisted by Carter Johnson and Cullen Gess.
Moorhead committed the only penalty in the game at 20 seconds in as Maccoy Gregoire got a 2 minute minor for interference, but Roseau was not able to capitalize on the power play. At just over four minutes of play in the second period, the Rams tied the score. Moorhead did not let that stand as less than three minutes later, Kai Holm buried a shot on a "tic" from Michael Overbo and a "tac" from Gavin Lindberg. Thirteen seconds after that, Triggs got his second goal on an assist by Cullen Gess.
The teams skated tough in the third, but the Rams would not be put down easily. With 3:34 remaining to play, Roseau got another one by Moorhead goalie Hudson Hodges. Desperate to tie the game, Roseau pulled their goalie and threw everything they had at Hodges, who stayed confident and blocked everything that came his way. The Spuds defeated the Rams 3-2 to advance to the state tournament.
Moorhead has 14 seniors on the team this year. The top line has been skating together since they were rookies. Triggs, Gess and Johnson have tallied a total of 153 points this season with only a seven point spread among the three. Moorhead will go into the tournament with a season record of 17-5-1. In a recent interview, coach Jon Ammerman stated, "The thing about our team, we found ways to win games this year. We've played astounding, we've played average, and more times than not, we've won. Part of it has to do with our goal tender, for sure, and also our topline of scoring at a ridiculous clip." Goalie Hudson Hodges is one of three finalists for the Frank Brimsek goalie of the year award. Coach Ammerman added, "We have a chance. We'll see where we are at."
Moorhead plays the opening round of State Tournament hockey on March 5 against Hill-Murray at 8 p.m. at the Xcel Center in St. Paul. The winner of that game will play Friday at 8 p.m. The championship game will be Saturday at 7 p.m. Go Spuds!