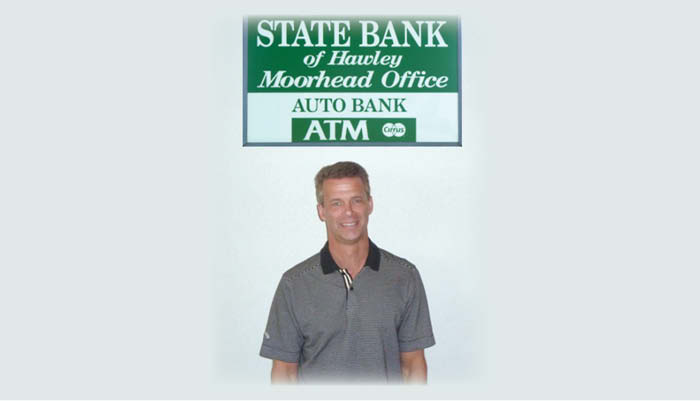 "Not only is our staff the key to our success, they are the heart and owners of the bank," said Bruce Tellefson. As the president of the State Bank of Hawley, Moorhead branch, Tellefson is very quick to give the staff credit for making the success at Moorhead location since the opening in 1994. The bank's operations are funded by taking local deposits and holding local loans for the long term.
Tellefson explained that both locations have always been locally owned and operated. Organized as an employee-owner business, the bank provides the employees with stock ownership ESOP making each worker a partial owner. This helps to build unity and team spirit, as each ESOP participant has an account that accumulates benefits to be paid at retirement or other termination of employment.
"At State Bank of Hawley you are doing business directly with the owners. It is a proven motivator and provides the best customer service. Our lending decisions are made by people who understand the local needs of families, businesses, and farmers. It's amazing to watch the staff because they are the owners of the bank and they take the extra step in taking care of our customers. They are the true asset of the company, and the biggest reason for our success," Tellefson added.
As a community bank, it is locally owned, and Tellefson fits in very well. He was born in the now closed Moorhead's St. Ansgar Hospital. Graduating from Hawley High School, Tellefson attended NDSU and graduated from MSUM with a financial degree, and later graduated from the Graduate School of Banking in Colorado.
Tellefson and wife Lori have two children. Son Logan works at Hornbachers and daughter Lindsey recently began her physical therapy residency with Sanford Hospital. Lori graduated from M State Community & Technical College, Moorhead, and operates a home-based daycare after transitioning from a retail career.
In 2002, Tellefson was elected president and chief executive officer of State Bank of Hawley, MN and Moorhead. Prior to joining State Bank of Hawley, he was an account executive for two years with Community First National Bank, Fargo. He also worked for Dakota Bank and Trust for 12 years and has held several lending positions, including consumer loan officer, real estate loan officer, branch manager, and commercial loan officer. His years of banking and lending experience make him a great leader of the State Bank of Hawley, Moorhead.
As the small business sector of our economy is a driving force in success, Tellefson wishes to remind everyone about the critical role the State Bank of Hawley serves in supporting local small businesses. "By lending to small businesses and local entrepreneurs, State Bank of Hawley helps our community thrive by driving economic growth and prosperity. We are privileged to serve our small businesses each day. After all, community banks are small businesses themselves."
Bruce Tellefson
President
State Bank of Hawley
3004 14th St South, Moorhead, MN 56560
218.233.2544
brucet@statebankofhawley.com