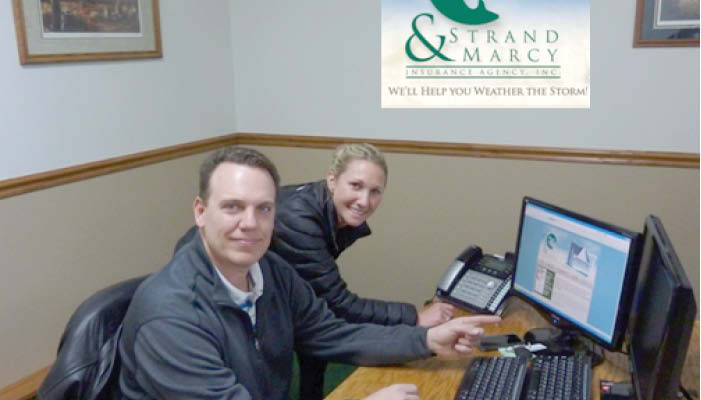 "One of our favorite things about being an independent insurance agency is having the opportunity to offer a variety of insurance options to our clients," said Brit Mattson, co-owner of the family business Strand and Marcy Insurance. "It gives us the ability to do the research for our clients and get the best rates from many different companies offering the needed coverage at a competitive price."
Originally from Comstock, Mattson graduated from Kindred, ND high school where he had the opportunity to participate in many activities ranging from drama and music to football, wrestling, and golf. His college of choice was MSUM for several years until his transfer to Penn State, where he graduated with a BA Agronomy Degree and a focus on Turfgrass Management.
While at Penn State, Mattson was given an opportunity to volunteer at Augusta National Golf Club and was eventually hired. He worked at Augusta for a year and witnessed the 1998 Masters while working on the grounds crew. Mattson explained that he had a great opportunity working at the best golf course in the world and also met some of the best golfers in the world. Adding to the excitement he encountered many celebrities attending the event, such as George Bush Sr., Chris Carter, John Elway, and Celine Dion just to name a few.
However, as it happens to many of the Red River Valley natives, the lure of being closer to home led Mattson to Giant's Ridge in Northern Minnesota in 1998 to work at the golf and ski resort as the assistant superintendent, which he describes as a very good move as he met and married his wife Sarah in 2000. Mattson is a proud uncle to three nephews and nieces. His hobbies include hunting, golfing, fishing, and snowmobiling. He is involved with the Comstock Wildlife Club and Oxbow Country Club's greens and grounds committee.
Mattson and his wife Sarah moved to Moorhead in 2001, where he entered the family business Strand and Marcy Insurance. The agency was started by his childhood neighbor Justin Strand and Mattson's grandfather, Jim Marcy. The firm was later purchased by Mattson's father Cliff Mattson. In 2010, Mattson and his brother Bryce, along with brother-in-law Jim Huesman, purchased the agency. Strand and Marcy is a family owned and operated company.
Mattson enjoys his work as an independent insurance agent. He enjoys the opportunity to offer a variety of options that appropriately meet the needs of his clients. He notes that "multiple companies allow us to write many different types of risks like personal insurance, life insurance, business insurance, and agricultural insurance. What makes us unique is our history of being family owned and the pride we have in servicing many generations of clientele."
Britton Mattson
Co-owner
901 Center Avenue
Moorhead, MN 56560
britton@strandandmarcy.com
218 236-9604