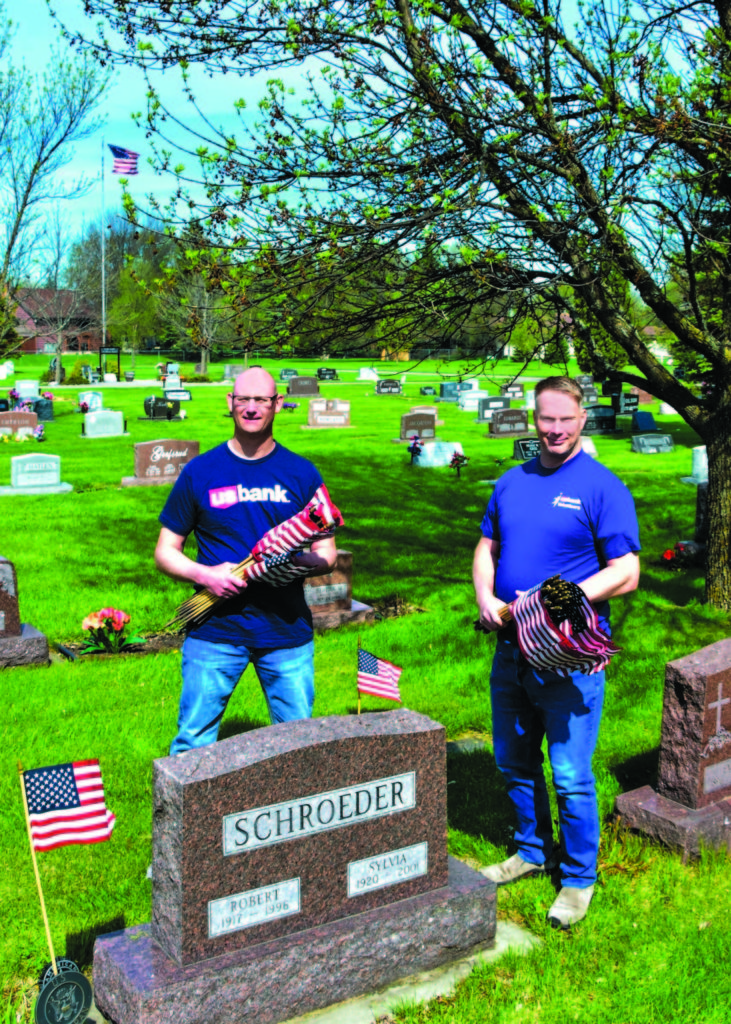 Nancy Edmonds Hanson
nancy.edmonds.hanson@gmail.com
Community volunteers are at work in Moorhead cemeteries today, preparing the hallowed grounds to celebrate those who have served their country.
As family members trim the peonies and plant flowers – real or silk – as tributes to their loved ones, a smaller-than-usual cadre of US Bank volunteers will be decorating veterans' graves with American flags at Evergreen and Prairie Home Cemeteries and Moorhead Memorial Gardens. Others will be at work at Riverside and St. Joseph's Cemeteries on the east side of the river.
In all, a core group of just five perennial US Bank volunteers are honoring vets' graves at seven sites throughout Fargo-Moorhead. That includes the first Memorial Day at the new Fargo National Cemetery, dedicated last fall by the U.S. Department of Veterans Affairs.
Scott Orn, who heads up the bank volunteers, says, "This year is going to be a bit unique." He notes that far fewer will be part of the flag-planting troupe due to the COVID-19 pandemic. In the eight previous years his group has been shepherding the flag-setting process, some 60 employees and members of their families have sought out and decorated veterans' graves. This year, he and just four fellow bankers – Chad Thoreson, Jason Cool, Tim Fee and Corrin Jones-Kremer – are doing their duty with only a few helpers to prevent the inadvertent spread of the virus.
In all, Scott's team expect to plant close to 1,600 flags today. They work from no official map of qualified gravesites. Instead, they divide each cemetery into quadrants (insuring plenty of social distancing), then walk up and down each row of graves searching for military markers.
Planning usually begins in March, when they inventory their flag supply and estimate how many new ones are needed. American Legion posts in Moorhead and Fargo take care of securing the small banners, as well as providing fitting disposal of those that have seen their last summer. Then, shortly before Memorial Day, new volunteers get training in the basics: How to recognize a veteran's grave, where to place the flags and rules for treating each flag with respect. (For example, they must not touch the ground.)
The flags flutter for just four days. On Tuesday, volunteer Cool takes the day off from work to gather them for secure storage until the next year. The American Legion takes care of properly disposing of those too tattered to fly another day.
Scott and two of his five team members are military veterans themselves, part of the 2,000 employed by US Bank across the country. He retired in 2009 after 20 years in the North Dakota Air National Guard, including deployment with Operation Iraqi Freedom. "When I got out, I wanted to know how I could support military members and their families after leaving the service," he says. US Bank's involvement with supporting service members and families presented him with this opportunity.
Though the volunteers are participating in a time-honored day of remembrance dating all the way back to the end of the Civil War, he says the hours spent placing flags on graves isn't, for most, a silent and solemn occasion. "It's an opportunity to recognize others and reflect on what they've done for our country," he muses.
For him, it's a treasured family tradition. He and wife Diana have been bringing daughters Maddie, 13, and Mya, 11, along to help from the beginning. "They look forward to it," he says … especially the moments when they encounter family members who take a moment to paint a picture of the man or woman they honor there.
"When you walk away, and you turn around to see all those flags waving in the breeze," he muses, "… it's just an unparalleled feeling of gratitude."
Vets' groups alter plans
Moorhead veterans organizations will honor those who have served their country Monday, as they do each year. But because of the pandemic and the state's stay-safe rules, the commemoration will look a little different.
The biggest difference, according to Commander Ken Kading of Albert E. Johnson VFW Post 1223 in Dilworth, is that no ceremony will be held on Veterans Memorial Bridge. Nor will the annual Honor Ceremony be held at the Moorhead National Guard Armory.
But a six-member team of Veterans of Foreign Wars and American Legion members will spend the morning conducting the traditional rifle salute at seven locations. They include Moorhead Memorial Gardens, 8:45 a.m.; Sabin Elmwood Cemetery, 9:15 a.m.; Sabin Trinity Cemetery, 9:30 a.m.; and four in Moorhead: Evergreen Memorial Cemetery, 10 a.m.; Prairie Home Cemetery, 10:15 a.m.; St. Joseph's Cemetery, 10:30 a.m.; and Riverside Cemetery, 10:45 a.m.