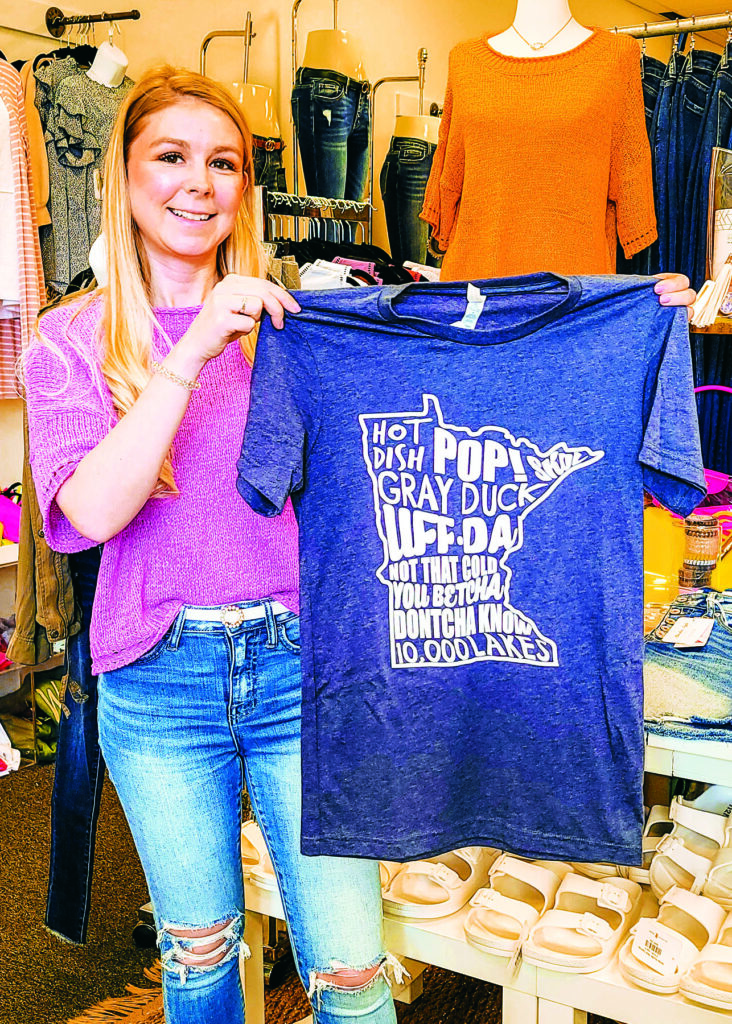 When Erica Hilde studied apparel and textiles at North Dakota State University 15 years ago, she dreamed of a career in fashion – of being a buyer, perhaps, for a major department store. The Moorhead High School graduate had worked at Herberger's, and she continued there while studying retail merchandising. The road ahead seemed clear, not only for her, but for her fashion-minded classmates.
She recently returned to her alma mater to talk about the career she has fashioned for herself – not so much in bricks-and-mortar retail, but in her own unique blend of small, cozy shop and the limitless world of online sales. With the stylish department stores of yore largely yielding to changing times, she says, she discovered that students' dreams have adjusted to: "Now they all want their own boutiques."
For Hilde, that dream has come true in a way she'd never expected. Her Absolute Style Boutiuqe at 901 Center Ave. showcasees her style in a cozy setting next to Ciao Bella Salon across the street from the new Armory Event Center. But many of her customers seldom – or never – walk through the door. The bulk of her business takes place online on Facebook, where customers browse her stock, ask questions, place orders and ultimately receive their purchases shipped to their homes and announced with a knock on the door.
Erica – then Erica Ziegler – graduated from Moorhead High in 2006. After completing her bachelor's degree, she moved to the Twin Cities, where she was an admission representative for the Minnesota School of Cosmetology in Woodbury, melding her eye for fashion with advising students on their careers. After marrying Spencer Hilde, the couple headed for Minot, where he became project manager of the new airport. There she completed a master's degree in business management while working as assistant director of enrollment at Minot State University.
There, a colleague mentioned two young women who had begun selling fashion from their homes but wanted to sell their fledgling operation. "A coworker told me, 'Erica, you should do this,'" she laughs. "I had a good job. Why would I want to do that?"
But she did. Erica ended up quitting her job, buying the little Absolute Style operation, and running it from her and Spencer's home. When the couple moved back to her home town, it came along to their new address in Moorhead.
And there it stayed … "until it grew so much that Spencer told me, 'You've got to get it out of the house,'" she reports. She found her present spot downtown and has thrived there ever since.
In the meantime, though, her biggest presence has been online. Her website, absolutestyleboutique.com, and Facebook presence have drawn fashionistas not only from the region but all over the country. Promoted essentially by word of mouth, the sites and her special Absolute Style Boutique VIP Group (with 3,762 enrolled members as of Monday) have made the five-year-old enterprise profitable today.
She has built her business from the ground up using the same strategies to pull together the lines of women's clothing and accessories. She found many of her original sources by walking the streets of Los Angeles' open-air fashion district, choosing merchandise from brand-specific stalls. A shipping consolidater whom she met there collects her orders until there's enough for a single, more economical shipment to Minnesota.
Some of what's displayed at Absolute Style is fashioned by Erica herself. She's proud of two popular Minnesota-flavored T shirts, her own Uff Da and another that fills the state's outline with the local lingo – "hot dish," "duck duck gray duck," "you betcha" and the like. She also searches out other small women entrepreneurs whose creations she can sell.
A part-time helper posts new merchandise almost daily to her sites. Periodically she schedules a Facebook Live event, too, where her VIPs can see what's new and gather styling tips from the proprietor herself. Customers are invited to call or text their orders. Shipping is free for orders over $49.
Erica says her online customers probably represent more than half of her business: "Online kept me alive through COVID, and it's gotten even bigger since then." She also has secured satellite operations. A select set of jeans, tops and accessories are sold in the Foundry, a Minot shop that specializes in the work of makers from around the area, and Halstad, Minnesota. There the Vibrant Salon has set up a small boutique of fashion she selects at the front of its space. It also carries an ever-changing selection of area makers' jewelry, dish towels, candles, mittens and home décor.
The days of running her fashion business from home are long gone. "Now I work here in the store most of the time," she says, with the help of a part-time assistant, two online helpers who handle the online side, and a local teen-ager who assists after school in unpacking, putting on price tags and hanging new additions.
"In the beginning, I didn't pay myself. Any little bit I made, I put back into inventory," Erica reports. "After a couple months, I realized that wasn't sustainable. I couldn't afford that expensive hobby.
"So I got serious and put all my time and effort into it and hoped for the best. I've had to hustle every day to make it work. And it has."
Absolute Style Boutique is open from 11 a.m. to 5:30 p.m. Wednesday and Thursday, from 11 to 4 Fridays and from 10 a.m. to 2 p.m. on the first Saturday of the month until next fall, when it resumes regular hours every Saturday.