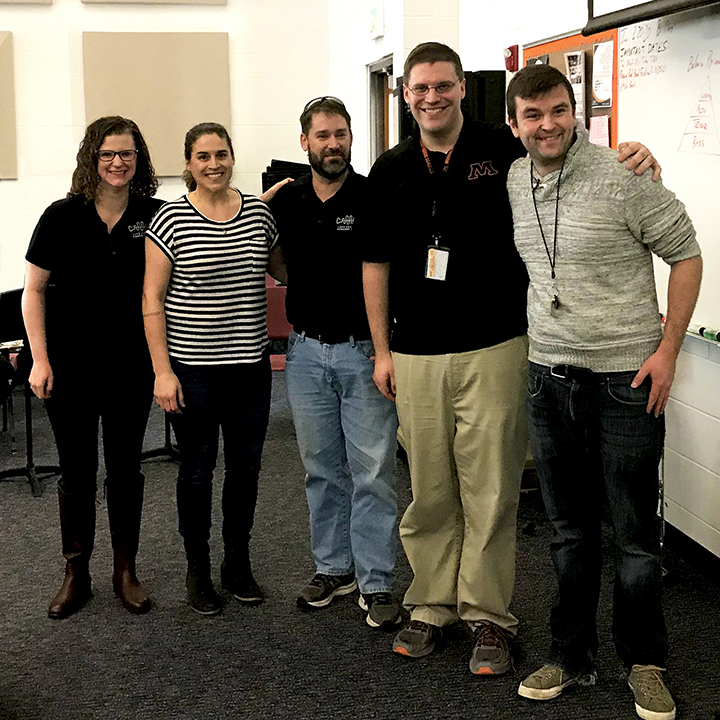 Students looked around at each other with excitement as a balloon-wielding parade entered the large band room at Horizon Middle School.
They soon found out that they are the 2020 recipients of the Allegro Grant provided by Lake Agassiz Concert Band.
Grant Fund Plans
Students created a two-minute video explaining how they would use the grant money as part of the application with help from Band Directors Dan Christianson and Tim Pipinich. The band will use these funds to bring new music to Horizon Middle School. Composer Darryl Johnson II will commission a music arrangement specifically for the band. This past year, the Lake Agassiz Concert Band worked with a composer on a piece of music. Tyler Rebrovich, Lake Agassiz Concert Band president, said it was the unique learning experience of working with a composer that made awarding the grant to Horizon's band an ideal fit. He said working directly with a composer is an experience that would be extremely valuable for young students.
The commissioned arrangement is a part of a two-year project for Horizon Middle School band students. This year, Johnson II is travelling to Moorhead to rehearse, talk with and teach an existing arrangement to the 7th and 8th-grade band students. Following this experience, the band will perform the piece at their spring concert in May. Moving into the 20-21 school year, Johnson II will be invited back to write a custom arrangement for the 8th-grade band. This will allow students to provide input during the music writing process.
Impact of Music Education
Music has a profound impact beyond learning an instrument. Pipinich explained that research shows a correlation between playing an instrument and increased brain development. It gives students a stronger mental vocabulary for problem solving, common goal achievement, perseverance and more. In addition, being a part of the band provides students with learning opportunities that improve their empathy and teach them to think about the greater good.
About the Grant
The Allegro Grant program was started by the Lake Agassiz Concert Band as a way to give back to the community and inspire kids to pursue music as a lifelong passion.
For the fourth year in a row, Lake Agassiz Concert Band awarded $1,000 to a local private or public school to support music education.
2020 Recipient: Horizon Middle School
2019 Recipient: Oak Grove
2018 Recipient: Grace Lutheran
2017 Recipient: Ben Franklin Middle School
You're Invited
Join Lake Agassiz Concert Band at Horizon Middle School on March 15 for a concert and special presentation to the Horizon Middle School Band for receiving the 2019 Allegro Grant.
If you go:
3 p.m. Sunday, March 15
Performing Arts Center, Horizon Middle School
Free to attend and open to the public