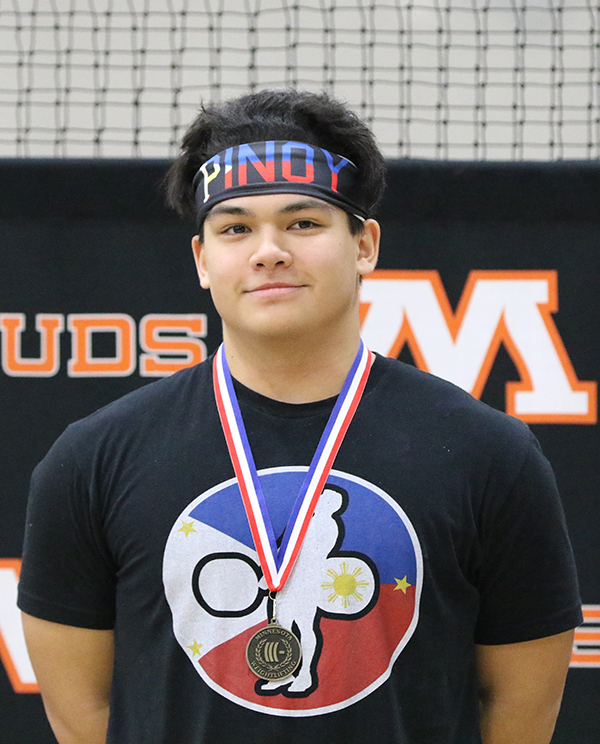 Moorhead senior Chrisanto D'Agostino traveled to Pleasanton, California in February to compete in the USA Weightlifting National Junior Championships and brought home the gold. D'Agostino took first in the Snatch with a weight of 132 kg and third in the Clean & Jerk competition. Scoring a combined total of 291 kg put D'Agostino on the pedestal as the National champion.
"I'm always very impressed with the drive and work ethic of our student athletes," Coach Cory Herrmann stated. "A lot of the credit for the success of our team is attributed to the knowledge and effort our assistant coaches put in on a daily basis. The athletes trust their advice and apply it to their own daily training. Once the athletes apply these principles, they almost always triumph on meet days." Herrmann added, "Chrisanto's high level of success is a product of this formula and he works on self-improvement every single day without distractions. He totally trusts the process and is a champion because of it."
D'Agostino stated that moving forward he is going to enjoy the win for a few days and rest, then get back to work and get ready for the state tournament on March 9. He is already getting ready for the opening of baseball season. "I got a taste of balancing baseball, Olympic lifting, and school work to start off 2020 already. I have been throwing weekly and I am starting to get back to form. In the next few weeks, the baseball mentality will start to take place and I will start attacking the ball just like I attack a lift. Once we get rid of all this snow, I can't wait to get back on the field." Home opener for Spud baseball will be on April 4 at Matson Field against Stillwater.
D'Agostino will be attending Concordia this fall to major in Chemistry, as well as to play baseball. He will keep up his Olympic lifting as well. "It'll be a lot to balance, especially with studying Chemistry, but it's definitely possible," he said. D'Agostino also has plans to try to make the Junior Pan Am team for Team USA in September. He adds, "These next few months and years are going to be fun!"