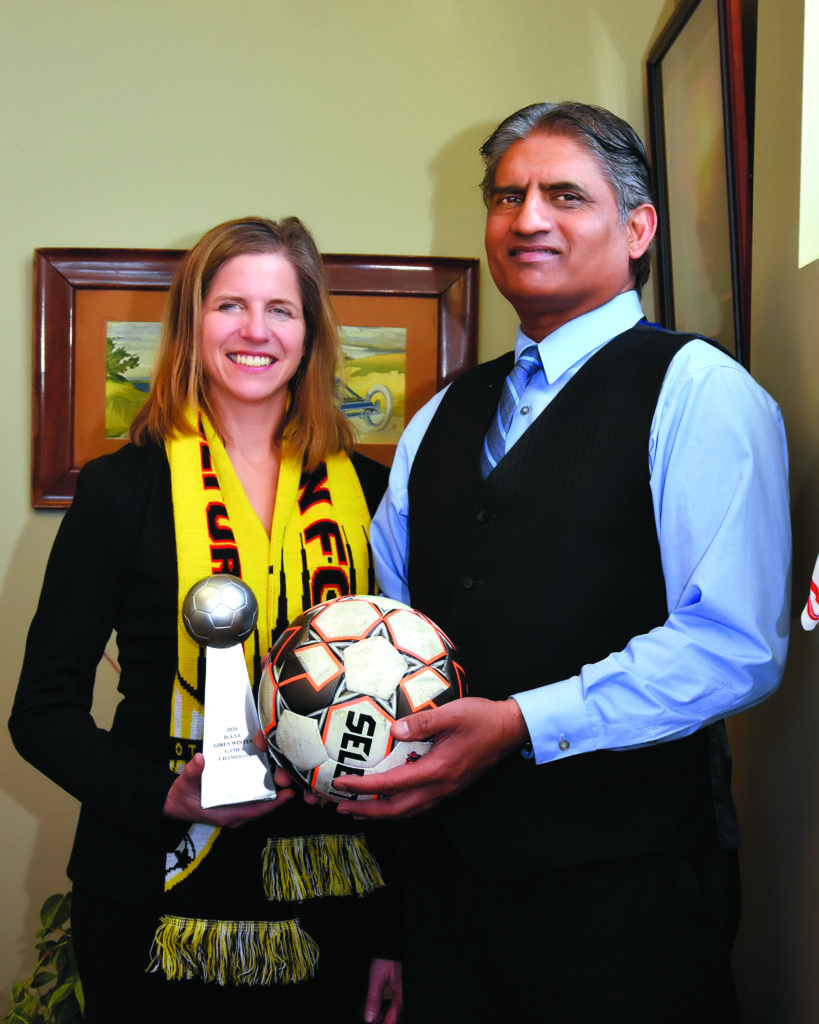 Nancy Edmonds Hanson
Moorhead's Ghauri family is passionate about soccer. Their four children play it. Mother Amanda played for 20 years. Daughter Jasmine, 20, a Moorhead High graduate now in college, captained the girls soccer team, and Sana, 17, has played on the team for five years. And their father, Sajid Ghauri ,is zealous about the game he has played for almost 50 years, since he was growing up in Pakistan.
At 55, Sajid proudly claims the title of the oldest player in the Tri-City Storm's adult men's league. He has coached. His company, Network Telephone Solutions Inc., sponsors Tri-City teams. But his greatest achievement so far in the family's crusade to make Fargo-Moorhead far more soccer savvy is the four-year-old semi-professional "futbol clubs" called Dakota Fusion – created to help outstanding young players bring the gap from local and regional teams and tournaments to the big time in the most popular sport on earth.
"Soccer in our community is still a second-class citizen in terms of visibility and fans," Amanda observes. "We fully understand that. It's not treated the same way. Our goal is to change that. It may never be on the same level as, say, hockey … but it's growing."
The key to their campaign is Dakota Fusion Futbol Club. (Futbol is what fans outside the U.S. call soccer.) They established a men's team in 2016, then added another for women the following year. While it's often described as "semi-professional," he explains Fusion's players are technically amateurs to maintain eligibility. None are paid; instead, they pay fees to belong. The calibre of play, however, is professional level. Sajid is proud to note that four players on that first team were tapped to play in Australia, Sweden and New York.
"We chose the name 'Fusion' because it truly is one – a fusion of cultures," he says. "It is a universal culture. You can stand in a park anywhere and call out, 'Let's play soccer,' and people will gather ready to play. They may come from all different cultures, but they all know the same rules and love the same game."
The Fusion men's team, he says, is now about evenly split between American-born and international players, most of them on hiatus from college teams here and across the country. Though it and its women's counterpart are based in Fargo, Moorhead and West Fargo, players come from Grand Forks, Bismarck and Minot as well, often driving long hours for a chance to play at this level. Teams typically represent 12 to 17 countries, though most are now U.S. citizens. The women's team, Amanda notes, is a little different, mostly made up of collegiate players from closer to home.
When Sajid and Amanda first dreamed about their team, he says, a goal was to build to the point that it could "graduate" to the National Premier Soccer League. "I thought it might take 10 years to build up to the level," he remembers. But at the end of their first season in 2016, Dakota Fusion got that invitation. Today it competes in the NPSL's Northern Division. In 2017, the team made it to the national play-offs in Detroit, Michigan.
This is a rebuilding year, he says. Open tryouts will be held from 2 to 4 p.m. Saturday, March 14, and from 10 to 11:30 a.m. Sunday at the Rustad Recreation Center in West Fargo. The entry fee is $100.
Sajid has been enthusiastic about the game for a lifetime, since playing it as a boy growing up in Pakistan. He and his friends played from dawn to dark on unpaved, dusty streets. "We didn't have a field, so we played in the street. We didn't have shoes, so we played barefoot. If our ball got busted, we found some newspapers and and taped it up and played with it again."
His parents thought little of the sport he loved. His father, a doctor, and mother, a nurse, had loftier goals for their six children: "They wanted all of us to be doctors," he says. "Sports was not a good thing. It was a distraction." But they did appreciate one aspect: "After a day outside, the moment my head hit the pillow, I was gone."
The Ghauris met in a folk dancing class at MSUM while both were students. Sajid had come to the U.S. in 1988 to study computer science. "There was one problem. When I took my first class, I discovered that I hate computers," he says with a broad smile. Instead, he gravitated to business and marketing. He also completed studies in electrical engineering at North Dakota State University. After 15 years working for MCI, Worldcom, LDDS and Qwest, he established his own telecommunications company. It provides high-tech communications solutions to clients across America and, today, around the world.
NTSI is one of Dakota Fusion's most generous sponsors. Other support comes from MCI, Essentia Health, and the Oasis C-Store and Tastee Freez in Glyndon.
Dakota Fusion's season runs from May through July. It includes 10 games – five for men, five for women – played at Moorhead High's Jim Gotta Stadium. Attendance is modest but growing, Amanda says; last year drew from 50 to a high of 300 to 400 per game. All young fans who wear the T shirt of any soccer club are admitted free. "We want the kids to get excited and want to grow to that level," she says. At the same time, their matches are an opportunity to learn more about soccer, too, and participate in the passion that has flowered among their offspring.
Soccer is more than a game, the Ghauris assert. It is a way of life. "To be able to run constantly for 45 minutes in a game, you must exercise faithfully — run seven days a week,"Sajid explains. "You must eat healthy and get sleep. You have to keep your nose very clean. If you are dedicated, there is no time left to get into trouble."
"Soccer has grown tremendously," he says, since he came to the F-M area more than 30 years ago. "It is understandable when you watch young people flourish and friendships grow. It is a sport you can play for the rest of your life, a wonderful sport to make you healthy.
"We want Fusion to build a bridge," he asserts, "one that gets our kids from amateur play up to the World Cup level."
For more information on Dakota Fusion Futbol Club events, go to www.dakotafusionfc.com.