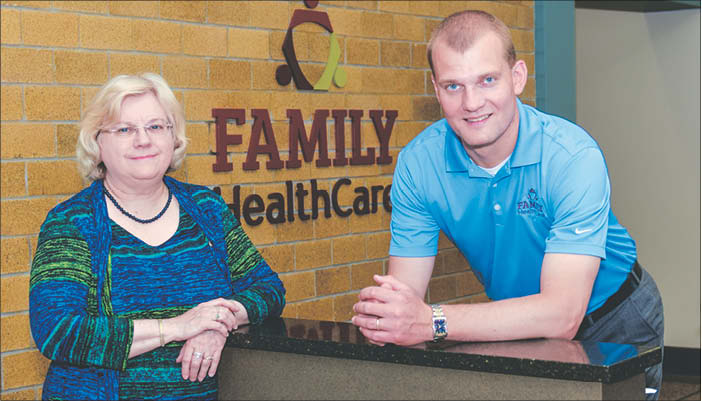 Where do you go when you're homeless and sick … when you need a doctor but lack the English skills to tell her what's wrong … when you're desperate, uninsured and don't have a clue where to turn for help?
For nearly 20 years, community leaders faced growing problems like these in Fargo-Moorhead. They found a grant to open a small clinic in the basement of the downtown Salvation Army, intending to offer health care to the growing number of homeless people drawn to the metro area.
Today, Family HealthCare – now located in the former Pence Auto/Richtman's Printing building at 301 NP Avenue – serves some 15,000 children and adults who might not otherwise have access to medical professionals. It continues to serve more than 1,000 homeless people a year – 1,300 in 2016. But its patients represent a far broader cross-section of the community who have limited access to traditional care, regardless of whether or not they can pay.
"We accept anyone who walks in the doors. Our focus is on the medically underserved," CEO Pat Gulbranson explains. "We care for them whether or not they have a way to pay – Medicaid, Medicare, commercial insurance or the ability to self-pay. We are simply here to help."
Pat, who came to Family HealthCare in 2012 from Blue Cross of North Dakota, says that about 40 percent of their patients are uninsured. The clinic's access plan offers services to eligible individuals and families on a sliding fee scale; staff is on hand to help patients navigate their options.
The vast building on NP Avenue houses more than 180 employees and a wide range of family-centered services. "We want to be our patients' health-care home," Pat says. "Many have been with us for years and years." Their staff, in fact, includes some who first found the friendly, open-hearted program when they themselves were in need of care.
The clinic serves a notably diverse population. Thanks to a partnership with Lutheran Social Services, it's one of the first local stops for refugees who've come to make the community their home. The clientele – about 70 percent Caucasian – includes a far larger share of longtime residents. Some drive hundreds of miles to see FHC providers, especially for dental care, which is based in a clinic in the Family Service Center in Moorhead. A second medical clinic also opened this year in West Fargo, with a third planned later this year.
The substantial share of immigrants among its clientele, Pat says, has led to development of the region's biggest interpreter program. Language is a big obstacle to providing care, with more than 20 percent of patients speaking a first language other than English. A dozen medically trained interpreters work full-time to enable medical providers and patients to communicate with each other. Another 20 are on call to help when they're needed. FHC interpreters also go out to assist at Sanford, Essentia and private medical clinics. Less common language barriers can be solved by telephone translation services.
Volunteer health mentors step in to help new arrivals navigate the ins and outs of local health care. Pat says the mentors help them navigate the changes and challenges of settling into the community, connect with resources and learn customs, traditions and expectations.
Family HealthCare offers the full range of primary-care services available at other, larger clinics. The medical staff includes two physicians, an optometrist, six nurse practitioners, a physician's assistant, a nurse midwife and a physical therapist. A lifestyle medicine provider helps patients deal with medical management issues – diabetes, COPD and asthma, high blood pressure, tobacco cessation and weight loss. The dental department is staffed largely by retired dentists, who see patients in both the Moorhead clinic and NP Avenue location. A full-time pharmacy is operated in partnership with the NDSU College of Pharmacy. The clinic also offers on-site lab and x-ray services and diagnostic testing.
Pat notes that other community partners help the clinic meet more specialized needs, especially Sanford Health, which offers in-kind assistance labs and specialty care. Fargo Cass Public Health and Clay County Public Health work closely with FHC, along Southeast Human Service Center and Lakeland Mental Health. They collaborate with other agencies, too.
The clinic, an independent nonprofit 501c3 corporation, is unique within this area, offering the only homeless health program in all of North Dakota and serving economically disadvantaged patients from the broad surrounding area of North Dakota and Minnesota. Nationally, though, it's one of 1,200 similar independent programs funded in part through the Health Resources and Services Administration. Its future is uncertain, but Pat says he and the board are hopeful that support will continue after the current appropriation runs out in September. "We have broad bipartisan support," he notes.
Federal funds account for about 15 percent of the clinic's $2.6 million annual budget. "Seventy-five percent of our revenue is generated by patient claims reimbursement – Medicaid and insurance," he details. The remaining 10 percent is largely made up by grants and contributions from private and corporate donors, as well as smaller grants from the cities of Fargo and West Fargo. Fargo also takes care of the clinic's IT needs, so essential to medical records and the online EZChart system.
This isn't the career Pat envisioned when he arrived at Concordia 20 years ago, fresh from high school in Lamberton, Minn. After completing his major in health-care administration in 2002, he went to work for Blue Cross, where he spent the next 10 years. He was its vice president of corporate administration in 2012, when he was hired; he replaced founding CEO Patricia Patron a year later. He and his wife Alicia, an MSUM graduate who teaches in Moorhead's Alternative Learning Center, have three children, including a son who graduated from Moorhead High Saturday.
"It was difficult to leave Blue Cross, but I'd always had the sense I wanted to get into the patient care side," hemuses. "With the growth of this community, the need for a family healthcare home for underserved groups will only be rising."
More information on the clinic's services, policies, locations and hours is available online at famhealthcare.org.