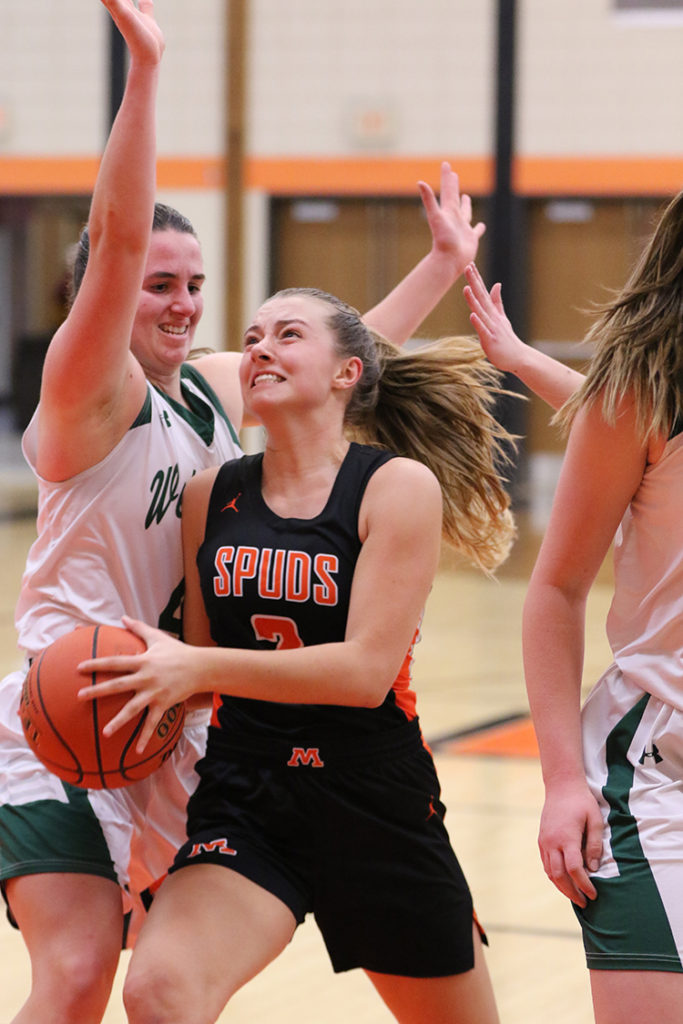 St Michael-Albertville came to town with a five-game winning streak on Jan 21 to play Moorhead in Girls Basketball. STMA's Mackenzie Kramer connected on 9 shots from the arc, leading the Knights to an 81-57 win over the Spuds and another one added to their streak. Rylie Polomny scored 26 points for Moorhead. Sam Zimmerman added 10 points.
On Jan 23, Moorhead hosted West Fargo for the first half of a doubleheader at the Moorhead High School gymnasium. It was a tight battle between two relatively evenly matched teams, with Moorhead coming out on top 62-58. Rylie Polomny was the high scorer for Moorhead with 19 points and had seven assists and seven steals. Samantha Hulst hit on five shots from behind the arc for a total of 15 points. Sam Zimmerman put up 13 points and pulled down seven boards to lead Moorhead in rebounding. Megan Haugo contributed seven points, two rebounds, three assists and two steals.
Moorhead traveled to the cities to take on Bloomington Jefferson on Jan 25. The Spuds came out blazing and had a 22-point lead by the half and never looked back. Sam Zimmerman was the high scorer for the Spuds putting up 28 points and three rebounds. Megan Haugo added 13 points and led Moorhead for rebounds with eight. Rylie Polomny put up 10 points and pulled 6 off the boards in the 69-44 win.
Coach Jed Carlson said about this year's team, "The 2019-2020 season has been one of overcoming adversity. Our team has great chemistry and is finding ways to win. I am really proud of the way our team competes each night, and we are looking forward to the final month of the season and building momentum for March." Girls Hoops will play at home on Feb 1 where they will host Hawley at 8 p.m.