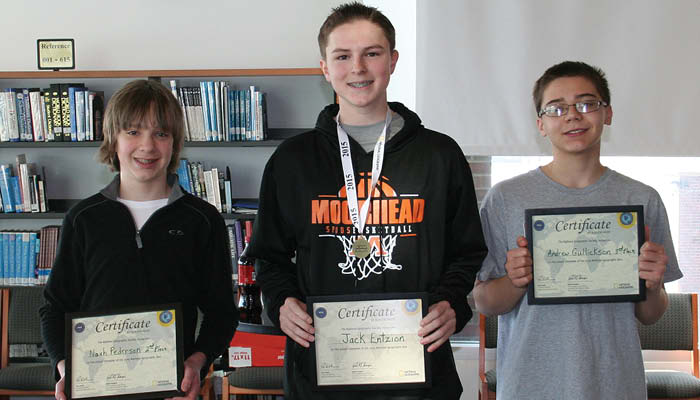 What state bordered by Louisiana to the south and Missouri to the north is the leading producer of rice in the United States? Which state bordered by Montana and South Dakota was first to give women the right to vote?
These and other questions challenged Geography Bee winners Jack Entzion and Noah Pederson and the eight other participants in the Horizon Middle School geography bee on Jan. 22. Two competing students successfully answered Arkansas and Wyoming to the above questions to remain in the bee for another round.
In the final round, Entzion and Pederson faced off before entering a single elimination tiebreaker round. Entzion successfully answered the second tiebreaker question to win the school-level geography bee. Pederson placed second, and Andrew Gullickson took third.
Entzion qualifies to take a written test to determine if he advances to the state geography bee.
All seventh- and eighth-grade students participated in a 50-question oral test in their social studies classes. Out of approximately 800 students who took the initial test, the 10 highest-scoring students qualified for the school-level bee.