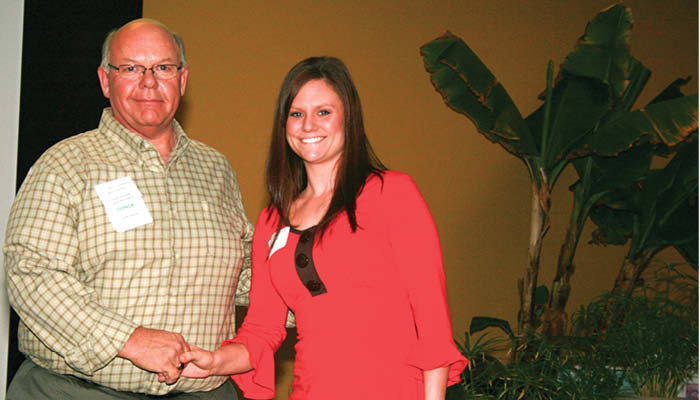 "With college costs rising, community college programs offer an affordable alternative. In addition, community colleges serve nearly half of the undergraduates in this country," said Tom Julsrud, President of the M State College Foundation – Moorhead campus.
The Foundation's mission is to help students who are not able to afford their education. Julsrud states that the typical M State scholarship recipient is financially disadvantaged. Often times the student is a first-generation college student who is coping with an economic hardship and lacks self-confidence in their abilities to compete academically. Adding to their stress, many students must balance academic responsibilities with competing obligations to their families as well as their employers.
President Julsrud explains that the Foundation's Board of Director president role is a volunteer position that connects student's needs with donors' desire to help students afford their education and to be productive community members. The board consists of ten community volunteer members who assist the Director of Advancement, Mark Altenburg. The Foundation has provided over $50,000 of scholarships each year for the past few years. As a donor, Julsrud understands the pleasure and joy one receives being able to help others.
No stranger to the work force, Julsrud's first work experience came at the age of 12, working in the local bakery after school and Saturdays. During high school, he worked at his uncle's service station on the weekends. Upon high school graduation, Julsrud attended the Lee School of Barbering in the Minneapolis area and worked as a barber for about 3 years. While attending barber school, he worked at a local towing company during evenings and weekends, towing cars from accident scenes as well as repossessing cars for various banks and lending institutions. Julsrud later purchased the company and eventually sold it to explore other opportunities in the Twin Cities.
Julsrud discovered his niche for truck driving as an institutional food distributor covering a 9 state territory. After working for the company for 15 years, the opportunity to drive for the Yellow Freight Company was too much to resist. Julsrud completed his driving career with Yellow after twenty years of service as a Pick Up & Delivery (P&D) driver. In addition to his driving responsibilities, Julsrud served on the Teamsters Executive Board for 7 years until his retirement in 2008. Julsrud's primary responsibility as a board member was to organize and educate workers in order for them to attain a higher standard of living.
Julsrud and his wife, Annetta, have been married for over 43 years and they are proud parents of three children (ages 41, 39, 37) and four grandchildren.
This desire to help others to attain a higher standard of living led Julsrud to join the M State Foundation – Moorhead Campus and was elected President a short time later. He brought to the Foundation board a very important quality; not only his experience in the workforce, but he was also a recent graduate of M State. His understanding of the students who were struggling with the many challenges in their daily lives gave him invaluable insight on how and why to assist the students. Julsrud demonstrated to the other board members how important it is to make a difference in the lives of those who need a little understanding and financial support. For Julsrud it is a two-way street for the students. "Hard work never hurt anyone. This is America and you can have anything you want, you just have to work for it." Good advice for the scholarship recipients as well as for the donors.
Tom Julsrud
President
M State Foundation – Moorhead
Moorhead, MN 56560
218 299-6826