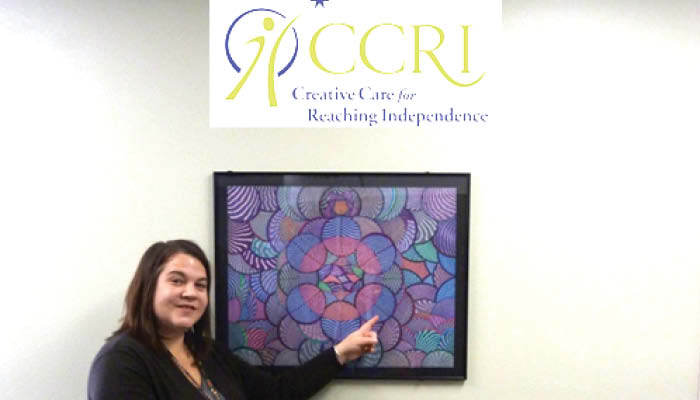 "Enhancing and enriching the lives and learnings of people with disabilities is our mission," explains Jody Dronen Hudson. As the Director of Development and Communications at Creative Care for Reaching Independence (CCRI) for the past fifteen years, she is one of the 470 dedicated team of professionals providing support services to people with disabilities.
Hudson is well acquainted with the local area and the needs of the community. She grew up in Moorhead in the same home that her dad was raised in. Hudson graduated from Moorhead High School and received her Anthropology degree with a minor in Native American Studies from MSUM. She helped to finance her college education working at the Trader Trapper for four years, which she remembers as a learning experience. Hudson and her husband Fred are proud parents of three amazing children ages 16, 13, and 5. They enjoy spending time as a family at their cabin on Cotton Lake as well as cheering for their children at their sporting and school activities.
Hudson comes from a long line of educators. Her dad taught 5th grade for 40 years, her sister teaches 9th grade in Brainerd, MN, and her brother teaches 4th grade in West Fargo. Her grandparents were elementary teachers as well in Moorhead. Hudson decided to pursue the world of social work, although she explains that teaching and social work are similar professions in the sense that the person works with others to assist them in learning skills that will promote their health or ability to support themselves. After working for a brief time for the University of North Dakota's Archaeology program, she entered the social work profession with Connections of Moorhead, and worked as an employment coordinator for people with disabilities for seven years until the opportunity at CCRI became available. The advancement was just too intriguing to turn down.
As Moorhead's largest non-profit organization providing support services to people with disabilities, CCRI has been helping people live more independently for more than three decades. They provide community based programs including 24-hour housing, mental health services, independent living skills training, and specialized support to people of all ages with disabilities. Hudson said that the CCRI team of professionals realizes more than ever how important it is to help people discover who they are and the goals they have by providing them with the support they need to reach their unique personal goals.
Hudson explains that the CCRI's team members assist people with personal care, educational training, recreation and leisure, medical, social and emotional needs. CCRI also works to increase disability awareness and stresses the importance of positive influences in the lives of the people they support. They also support families and caregivers of those with disabilities by providing services that provide a much needed respite.
Driven by the mission of enhancing and enriching lives, CCRI holds several unique events: Polar Plunge, Fargo Marathon Charity team, CCRI Prom, Camp H.E.R.O., Adaptive Softball League, SuperHero 5k, CCRI Talent Show, and TableScapes. At all of the events, relationships are built with their peers from within CCRI and those served in other parts of the community.
Hudson's most satisfying personal accomplishment comes from her family. "I am very proud of the people they are. I believe strongly in bringing one's profession together with family as both groups can benefit so much. My family has always been involved at nearly every CCRI event as supporters and helpers and their presence grounds me in what's important and gives the people we support and co-workers additional insight into who I am outside of work. When I witness my children see past a disability to the person within, I know I have truly broken down the barriers that form when someone is considered different. I know that they are on equal ground as individuals. I know that I have succeeded in making them see everyone as important and unique."
Jody Hudson
Development Director
CCRI
2903 15th Street South
Moorhead, MN 56560
Phone: 218-236-6730
CRI@CreativeCare.org