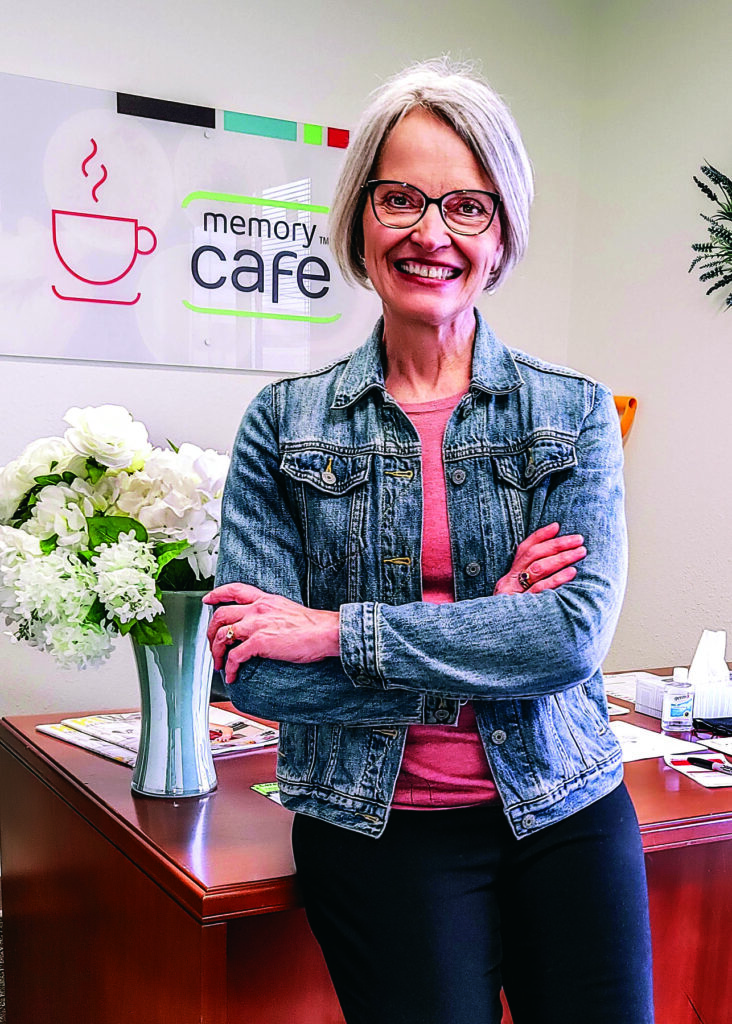 The hardest part of memory loss, says Deb Kaul, is the isolation.
"Friends and family pull away," says Kaul, a registered nurse with personal experience. "They don't know what to say or what to do. It causes the person with Alzheimer's disease or another condition affecting memory to feel like less than who they were before.
"When someone hears the medical diagnosis, they tend to jump immediately to the end," she adds. "But that person may have 10 or 12 or more years of living left.
"Our mission is to change the way we think about memory loss. We advocate for a more positive, life-giving approach for the person who is affected and their care partners."
By that, she not only means the spouse or family member principally involved with their care. She means the whole community.
Created five years ago by Deb and educator Beth Ustanko, the Memory Cafe of the Red River Valley aims to provide "empowerment, hope and joy," as its mission states, through regular gatherings for socializing, learning and simply having fun. The volunteer-led nonprofit holds gatherings every Wednesday – at Moor head's Hjemkomst Center on the second Wednesday of the month, at Bethel Church in Fargo on the first and third Wednesdays, and in its own quarters at 1122 First Ave. N. in Fargo on the fourth, Along with those gatherings, it hosts events in its Linger, Laugh and Learn Center on Tuesdays and Thursdays. All events are free and open to the public without registration or qualification.
The founder, who has worked as a full-time volunteer since its inception, says Memory Cafe's goal is to create an opportunity for those with mild to moderate memory impairment and the partners who care for them to relax, socialize, forge lasting friendships and learn. But its overarching mission, she emphasizes, goes beyond the benefits to the participants (whom she calls "friends") – usually 40 or so each week – who gather for its events.
"We want to eradicate the stigma," she emphasizes.
"Well-intentioned friends and neighbors often feel awkward and ill-equipped to deal with dementia, so they tragically pull away. Individuals themselves may be fearful, overwhelmed and feel deserted by their friends. We believe it's possible to live well with memory loss for a long time … if people are provided with quality education, a place to belong without fear or judgment, sustained new friendships and enriching opportunities to engage with each other through music, art, movement and community service.
While the primary focus of Memory Cafe has been on those in the mild to moderate stages of Alzheimer's and other forms of dementia, she notes, all who are coping with memory impairment are welcome, including people with Parkinson's, stroke and brain tumors.
Hundreds of Memory Cafes have sprung up across the U.S. since the concept – created by a Dutch psychiatrist who recognized the terrible loneliness of the diagnosis – spread to the United States a dozen years ago. Finding the exact extent of the movement is impossible because each local cafe is entirely independent of the others, shaping its own social, service or educational programs to fit the needs of its own community.
The Red River Valley variant was inspired by Kaul's family experience: She helped care for her parents, who lived in Bismarck, for almost 10 years leading up to their deaths. After spending most of her professional nursing career with Hospice of the Red River Valley, she was moved by their pain and loneliness as she helped them through the stages of their dementia. Her mother was diagnosed with Alzheimer's, while her father had another memory-loss condition, Lewy body dementia. (Both were diagnosed by autopsy after their death.)
The local Memory Cafe helps people with impaired memories and their caregivers meet and nurture friendships with others going down the same road. Their gatherings, says Kaul, are relaxed, friendly afternoons spent drinking coffee and, often, gaining knowledge about issues they all share.
Many activities are light-hearted, others more serious. This week, local artist Barbara Benda led a session she called "sketching for brain health." On May 11 when they gather again at the Hjemkomst, the focus is on advance health care directives. On May 18, the occasion is a birthday party at Bethel Church to celebrate the Cafe's fifth anniversary.
There's more. On Tuesday, May 10, painter Nicole Gagner leads a session on, of all things, painting pickles. The playful afternoon combines sketching the puckery cucumbers in watercolor while snacking on the actual briny variety. Participants can also participate in the weekly Tai Chi Chih session led by Barbara Edin. On Thursday, after an emergency planning session for care partners, auto buffs share one of their semi-regular chances for "car talk."
Memory Cafe's operating budget of about $85,000 comes entirely from individual gifts, along with an occasional grant. The depth of the area's concern, Kaul says, was shown by its standing in February's Giving Hearts Day, when it ranked second in the number of new donors. Only part-time director Leeora Windingland receives a salary.
Memory Cafe of the RRV is sponsoring a conference for caregivers titled "Redefining Memory Loss" on June 7 at the Holiday Inn. The day-long event features speaker Erin Bonitto, a nationally known dementia communication coach, who offers tips for families, skilled nursing homes, and assisted living and memory care organizations. Her advice includes techniques to share the gifts of pleasure, purpose and peace while making measurable impacts on clinical goals for better safety and better living.
For more information on upcoming Memory Cafe programs and the conference, visit the website MemoryCafeRRV.org or call 701.404.6712.