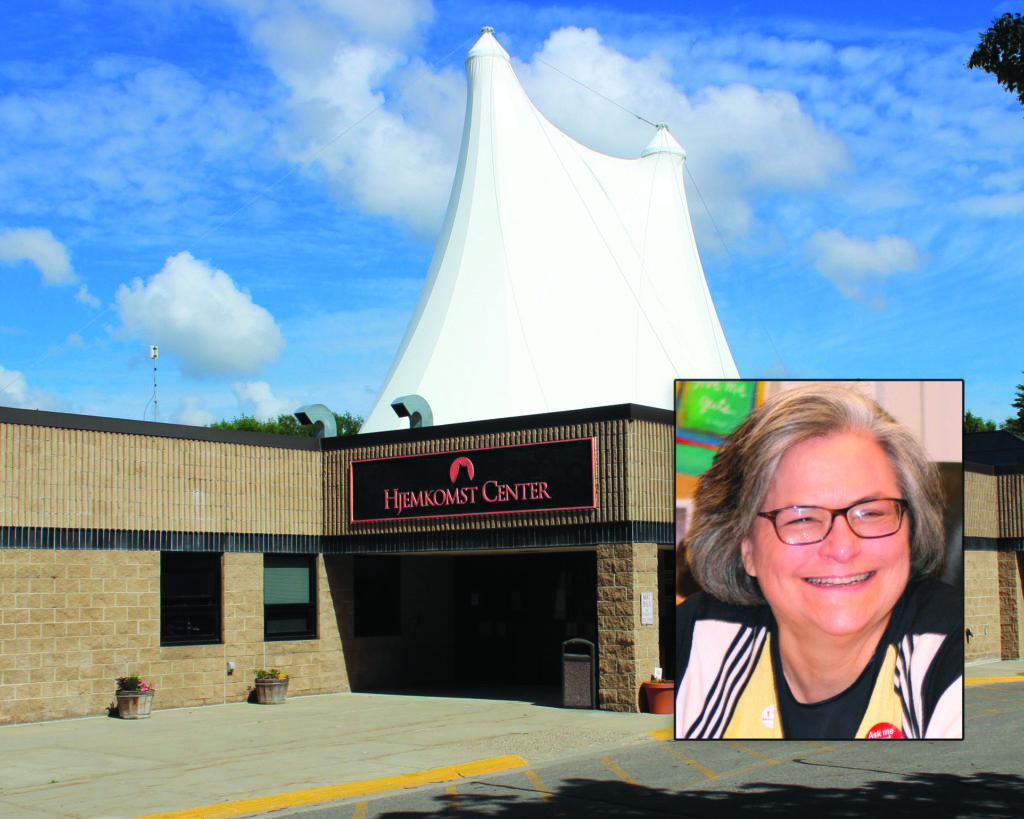 Nancy Edmonds Hanson
Irony surrounds the cautious reopening of the Historical and Cultural Society of Clay County's museum along the Red River in downtown Moorhead.
For the past 10 days, visitors have once again been able to tour the eerily timed major exhibit in the Hjemkomst Center's main gallery. "War, Flu and Fear" chronicles the days a century ago when Americans were fighting two of modern history's greatest plagues – a world at war, and a viral pandemic that eventually cost some 50 million lives worldwide, 675,000 in the U.S. alone.
The comparison with the novel coronavirus that has throttled contemporary life is fascinating. Visitors who study the exhibits are wearing masks. They're observing strict limits on how many can simultaneously populate the space. They're freshly freed from a state emergency order that called on them to stay safe in their own homes. And they're being invited by the historical society to share their own pandemic stories as the society collects the history of another plague still playing out around the globe.
Some 3,000 visitors would have toured the Hjemkomst during these months in a normal year, including a May packed with as many as 300 schoolchildren a day. Instead, between March 15 and June 15, the doors were locked, and executive director Maureen Kelly Jonason and her full-time staff of seven were working at home. "Each of us made occasional forays into the office to pick up work when no one else was around," she says. Between staff meetings on Zoom and plenty of time for projects that had been put off, including cataloging decades of publications and staging several online exhibitions, the three lonely months weren't idle. But the resumption of tours of exhibits and the Hopperstad Stav Church marks a welcome return to normal.
Or somewhat normal. Face masks are now mandated for staff and guests. Sanitation stations are scattered throughout. The volunteers who helped put on a friendly face are gone at least through Aug. 1, perhaps longer. The staff is following Minnesota's nine-page checklist of precautions for organizations in the "entertainment field," the category in which the museum fits. They follow strict capacity limits of 15 visitors in the big gallery at a time, 15 around the Hjemkomst ship, and six in the church and smaller areas … a total of 52 for the entire facility.
These months of quarantine have cost the society dearly; Jonason estimates a current loss of at least 25% of anticipated revenue for the year in admissions and sales from the popular gift shop, with the rest of the year still uncertain. Besides the major exhibit and other attractions, the pandemic eliminated the year's biggest event, the 43rd annual Scandinavian and Midwest Viking Festivals that would otherwise have been in full swing right now.
Two big art exhibitions have been affected. The F-M Visual Artists' BIG Exhibition normally draws fans to its multimedia exhibit of ceramics, blown glass, photographs, videos, illustrations, sculpture, paintings and woodcarving. This year, it takes place entirely in cyberspace.
The second prominent art show is living a double life – online like the BIG Exhibition, but also in the museum's fourth-floor gallery. The society partners with the Red River Valley Watercolor Society in sponsoring National Juried Watermedia Exhibition 2020. While, like the BIG show, the entire assemblage can be viewed online, it can also be visited in person through Aug. 9. Both shows are sponsored by The Arts Partnership, North Dakota Council on the Arts and Alex Stern Foundation.
A third exhibition opening July 1 features the work of some of the nation's most creative quilters. Quilt National '19. Billed as a multicultural quilt show, it will probably be viewable only in person due to copyright concerns. The showing is again sponsored by The Arts Partnership plus the Lake Regional Arts Council.
Other plans have had to be eliminated. Comstock House, owned by the Minnesota Historical Society and managed locally, is closed. "There is absolutely no way to sanitize historical artifacts, and the house doesn't lend itself to social distancing," Jonason notes with regret. A series of Equali-Teas planned for its grounds has also been scrapped, along with a big observance of the centennial of women's suffrage planned for Viking Ship Park. "Now we're talking about a virtual observance of some kind," Jonason says, referring to an event staged online. "We absolutely must commemorate the anniversary of women winning the vote."
The cancellation closest to the society's heart, though, is its annual meeting, "a wonderful social affair with dinner, speakers and awards," the director says. It was scheduled for May 9. Nope. Now it has been reborn as a Zoom-based event Sept. 16.
While the loss of admissions and sales has crimped the budget, she points out that the society's members and donors have come through with flying colors. Membership renewals are coming in earlier than usual, often with members bumping up to a higher category. Donors, too, have stepped forward to help the society qualify for a grant offered by the Fargo-Moorhead Convention and Visitors Bureau. The tourism group will match donations received through Aug. 1 up to a total of $50,000. As of last week, the historical society's donations had already reached $10,000.
Meanwhile, the HCSCC staff is eager to collect the history we're living through right now. Its website features a page inviting the public to share artifacts and stories of COVID-19 in Clay County – from tales of panic buying and lost jobs to the meals, movies, songs and pastimes that have filled families' homebound days. Contributors can choose from a list of questions to prompt their memories or take off in their own direction. Photos are also welcome. To get started with your own contribution to history, go to www.HCSCConline.org and click research.