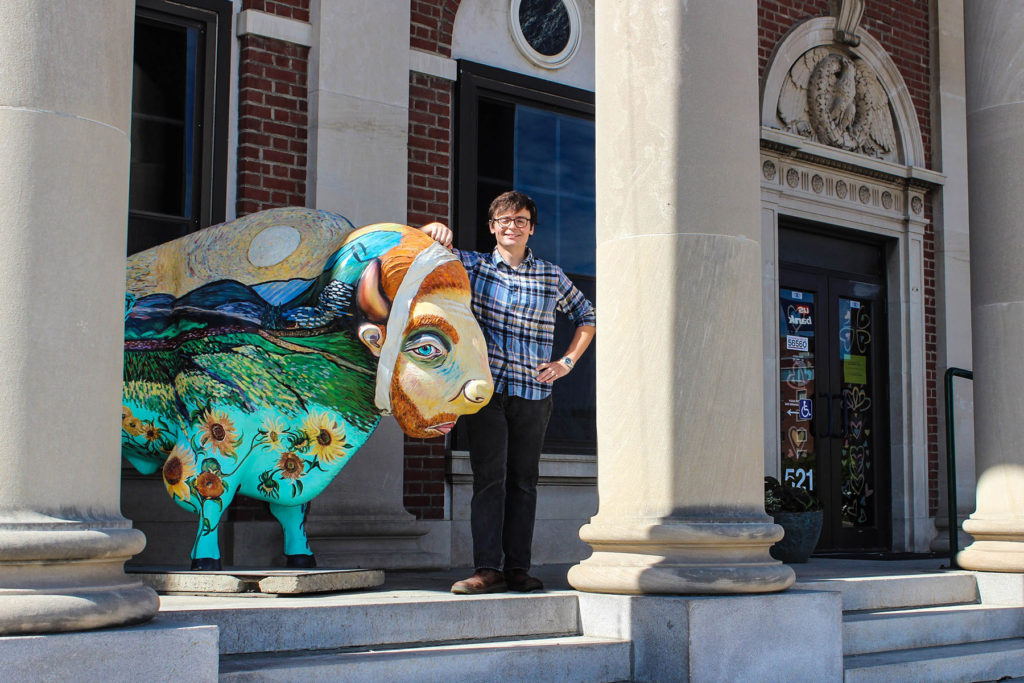 Nancy Edmonds Hanson
When the 61st annual Midwestern Invitational opened last week at the Rourke Art Gallery and Museum, the works of art hung on its walls alone. The yearly event, a highlight of the calendar since founder James O'Rourke established the famed Moorhead gallery 61 years ago, was entirely different in 2020 than in the six decades that came before.
Instead of filling the halls with enthusiastic art-lovers sipping wine as they browsed among the work of dozens of regional artists, the event took place in cyberspace. Paintings and sculptures were photographed for the virtual gallery on the museum's website, therourke.org/midwestern.html. Members enjoyed the traditional gourmet dinner in their own homes. They heard juror Dan Jones discuss the artists' entries via video. Then, listening to the Hartford Street Brass perform from the gallery online, members clicked through the 75 works of art on their computer monitors.
It was a hallmark of the new reality that executive director Jonathan Rutter describes. "None of us know the direction that COVID-19 will take. It's spiking in 29 states," he says. "Gov. Walz may have to 'turn the knob again,' as he puts it.
"Besides, many people are not yet able or comfortable enough to venture forth. It's up to us to provide the arts experience however we can."
He adds, "We were lucky. We already had the virtual exhibit '60 Years, 60 Works' up in principle." The online show features one work dating from every year of the museum's lifetime. "We put it up in January between the main and balcony galleries. We recognized at the time we didn't have particularly good images, so we started photographing then." Rutter says the museum's staff of six part-timers "transitioned very quickly when we had to close. We had the pictures by then, and our website could accommodate the exhibit. The mandated closure gave us the time we needed."
Starting last Friday, the Rourke has been admitting visitors from noon to 5 p.m. Friday, Saturday and Sunday … by appointment. Visitors can sign up for one-hour blocks on the website. The museum is supposed to operate at 50% of capacity. "We want to keep the number of people in here at one time well within guidelines. This is not one of the most cavernous galleries in the state, and people naturally are more concentrated. The air doesn't circulate much here."
The lack of visitors hasn't affected the museum's bottom line, since admission has been free since mid-2017. It has led, though, to greatly diminished sales of art and gifts from the museum shop. On the other hand, membership renewals – the majority of them due in May – have held up well.
"It's strange, though," Rutter muses. "I think we will emerge on the other side of this in a better place than when it began. We have a lot of great projects and programs in store through Summer 2021."
Among them: an oral history project and more programming out of doors, which is considered the safer alternative in the time of pandemic. The staff is working on a sculpture event in the outdoor court later this summer. They are also investigating wheat-pasting, an old tradition of pasting posters and art on the outside walls. "Wheat paste sticks well. It does hold up to the elements for awhile," he reports. "Of course, it's problematic when it's raining while you install it."
Depending on the course of events in coming weeks, the staff hopes to introduce another date that, like the Midwestern, can become a museum tradition. It's Founders Day, to be celebrated on July 20, the late O'Rourke's birthday. "We're thinking about a social event outdoors," Rutter hints. "We'll see how circumstances shape up."