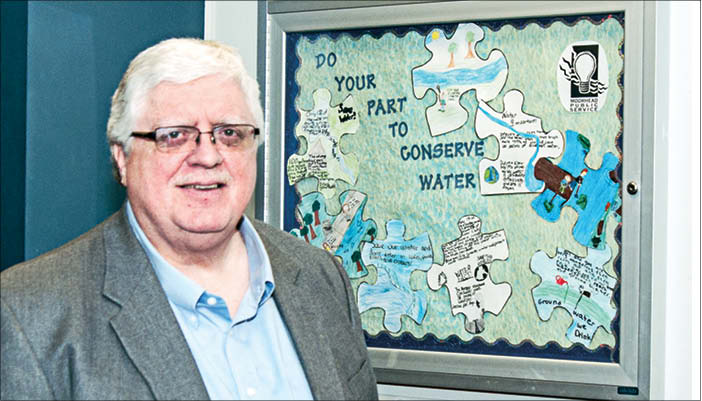 Dennis Eisenbraun says he may have the most unique job in Moorhead: "I give away money and sell less of our product."
Dennis works for Moorhead Public Service. As its energy services manager, he has developed and runs a variety of programs designed not only to keep electricity affordable for MPS customers, but to literally give them money – including rebates for installing energy- devices, from air conditioners to light bulbs.
Moorhead residents have been receiving letters about the city-owned utility's newest money-saving scheme. Dubbed Thrifty Watts, the program offers homeowners a credit on their power bills if they choose to sign up for load management and energy conservation this summer.
Those who have signed up will receive a $9 monthly credit in June, July and August. In return, they permit the utility to reduce demand for electricity during the peak air-conditioning months.
The savings require installing a device on the outside of their homes near their air conditioners. It permits the city to cycle the unit on and off in 12-minute increments when demand is highest. Dennis predicts that homeowners are unlikely to notice more than a degree or two of difference.
They may also be eligible for an additional $3-per-month year-round credit if the same strategy can be applied to their electric water heaters. The heaters will cycle for up to four hours at a time … but only during peak usage periods.
MPS picks up the cost of installation for both the air conditioner and water heater wiring and devices. A representative of Voxland Electric, MPS' current Thrifty Watts contractor, will be installing the control boxes and connections outside participating homes on their air conditioners over coming weeks. (Interior access is needed for water heaters.)
As Dennis explains it, reducing peak loads saves MPS money, both now and in the future.
"We buy power from two sources," he says. "About half of our electricity now comes from the Department of Energy's Western Area Power Administration from federal water projects across the western region."
The rest comes from Missouri River Energy Services, a not-for-profit consortium that serves Minnesota, the Dakotas and Iowa. MRES' generating plants and transmission lines supply 61 municipal utilities, including 24 in Minnesota and six in North Dakota.
Encouraging Moorhead residents and their counterparts across the area to conserve energy isnot only intended to trim peak demand now. "If we can reduce the amount of power we need, MRES can delay investing in building more power plants, and that keeps rates down in the long run," Dennis explains. "The cheapest kilowatt we can buy is conservation."
Thrifty Watts is only the newest of Moorhead Public Service's initiatives to reduce energy consumption. Working with MRES throughout the region, the agency offers substantial incentives for thinking of energy consumption first when replacing all kinds of power-hungry home essentials, from furnaces and air conditioners to washers and dryers, refrigerators, dehumidifiers and programmable thermostats. Details are available at www.brightenergysolutions.com.
MPS distributed $28,161.50 in residential rebates in 2014, the most recent total available. Commercial customers have vastly greater opportunities to save on heating and lighting their stores, offices and warehouses, a reality that's reflected in rebates of $180,344.52 for the same year.
He credits sharp business owners and managers, as well as developers, for achieving those savings. "Businesses like the Azool Shopping Center, Farmstead Care and Orton's Holiday Station could be poster children for energy-efficient design, right from the beginning. also citing Sam's Club, American Crystal Sugar, the Busch Agricultural malting plant, Concordia and MSUM and Moorhead's public schools among those who have achieved substantial energy savings. "But plenty of smaller businesses have done the same," he adds, including Matt's Auto, the Rourke Art Museum, Furniture For Less and Steidl Family Dentistry.
While not everyone is constructing new facilities or buying major appliances for their homes, one aspect of the Bright Energy Solutions program is readily available to virtually everyone: rebates on the purchase of energy-thrifty LED and CFL light bulbs. Each incandescent bulb that's replaced earns homeowners a credit of from $1.50 to $4 on their MPS bills. These non-traditional bulbs use 70 to 90 per cent less electricity than traditional bulbs and can last 10 to 25 times longer.
"When we say we want people to 'live energy-efficiently,' we don't mean sitting in the dark," Dennis emphasizes. "We want people to maintain the same comfortable standard of living. Instead of turning on a traditional 60-watt incandescent bulb, they can switch to a 10-watt LED bulb – providing the same amount of light, but more efficiently.
"Energy efficiency saves everyone money as well as our precious, limited natural resources," he points out. "It doesn't mean degrading your quality of life."