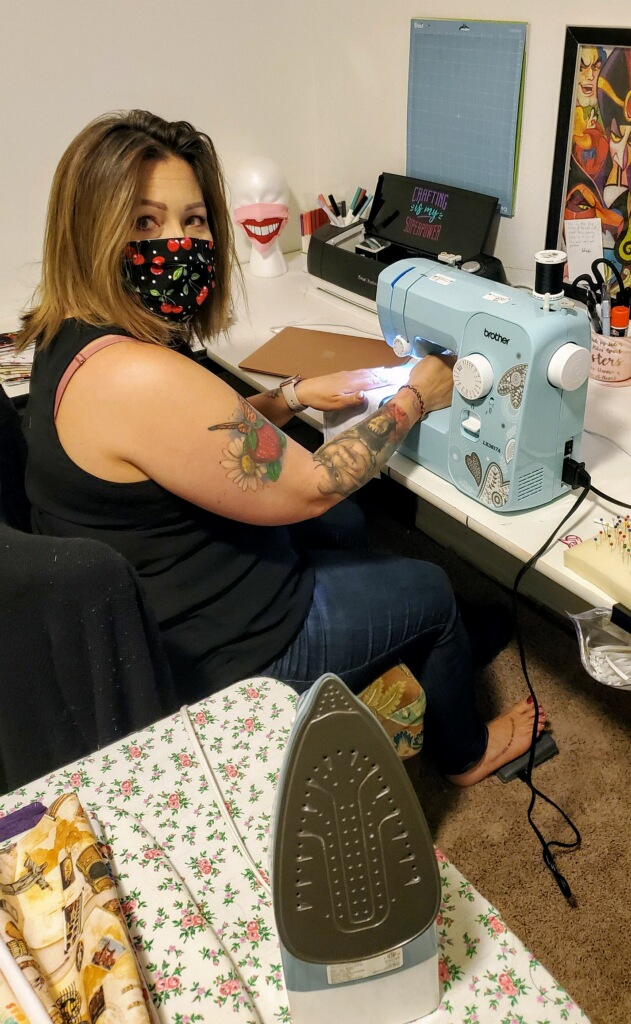 Karen Newman
Heather Murray's Brother sewing machine hums tirelessly as she constructs yet another facemask. Since she began making masks at the end of March when the Covid-19 pandemic rendered facemasks in short supply, Murray estimates she has sewn between 900 and 1,000 masks which she donates to those in need. Her well-organized crafting room, located in the Moorhead home she shares with her husband, Joshua, serves as headquarters for facemask fabrication.
Heather's Grandmother Goldsmith from Ogilvie, MN taught Heather to sew when she was about ten years old. It was preparation for her enrollment in her school's home economics class. Asked what she sewed for her first sewing project, Murray laughed and said, "A jumper. I wonder if anyone knows what that is anymore?" She remembers earning a very good grade in her sewing class.
Before her grandmother died, she left Heather a sewing machine and her fabric stash. Although that machine ultimately wore out, the basic Brother model she currently uses works well. Murray planned to explore quilting as a hobby but put those plans aside due to the pandemic. She began to make masks which were initially given to her family and close friends. She recalls, "Everybody needed masks. I had time and I had the fabric, so I started. At first, it [the fabric] all came from my grandmother but I have purchased a lot since." She appreciated curbside service from JOANN Fabrics and Crafts and says a weekly stop there has become part of her routine. Citing her desire to support small, independent businesses, Heather also purchases print fabric from an Illinois business, BelloBerryFabricShop, found on the Etsy website. Additionally, she also receives some donations of fabric and sewing notions.
All masks are two layers, constructed with a cotton print outer layer and a cotton muslin inner lining. Heather tries to find the softest elastic she can for ease in wearing. She estimates that she can make 10-12 masks from a 36-44-inch-wide yard of fabric. Having never constructed a face mask when she began, Murray consulted several internet videos and developed her own process. Her sewing center is set up in a console formation for maximum efficiency. The cut-out mask panels lie to the left of her machine. An adjacent cutting table, to the right, holds a portable ironing board and iron for pressing seams. The table and ironing board are covered in pink print fabric from her late grandmother's stash. Heather fondly says, "I like to have my grandma close by me when I am sewing." When the pandemic ends, she plans to construct a 'Quarantine Quilt" from the fabric scraps she saves from the masks.
People may request masks from her at her email address: masks4moorhead@gmail.com . She will make up to five masks per request. Those receiving masks must pick them up. Murray doesn't mail them. Upon completion of an order, she provides an address for pickup.
Heather doesn't charge for her facemasks. Asked why, she replied, "I can't charge for giving someone peace of mind. I have the time, the means and the fabric. A lot of people don't have that right now. "