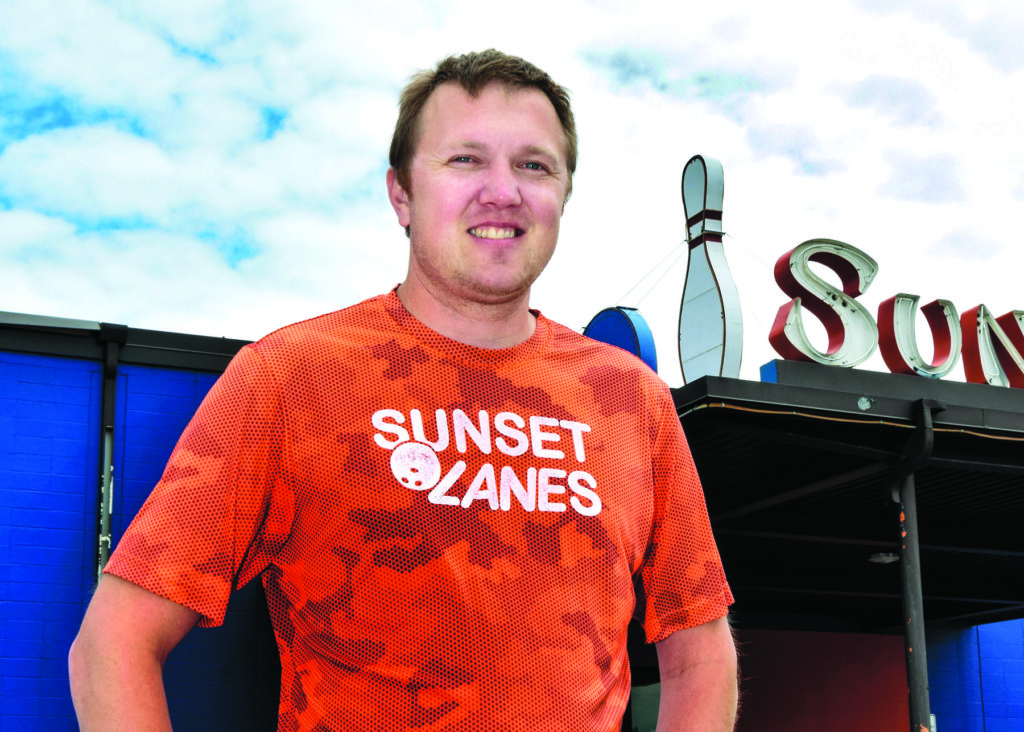 Nancy Edmonds Hanson
Sunset Lanes is bringing back a movie tradition that today's grandparents remember fondly and their offspring have never tried – watching films on the big screen from the comfort of their cars.
A new generation gets its own introduction at dusk Friday, when Sunset Lanes premiers its first outdoor movie showing. "Sonic the Hedgehog" is billed as an action-adventure comedy, combining the animated character based on the popular Sega video game with human actors, including Jim Carrey as the villainous Dr. Robotnik.
It marks the first drive-in-style movie in Moorhead since the days of the Moon Lite Drive-In, which served up fresh-air cinema on Highway 75 South from 1953 until its closure in 1988. Sunset is calling its event "carpool cinema," a requirement of its contract with filmmaker Sega.
"We've tossed around the idea of outdoor showings for five or six years. With COVID-19 restrictions, the time just seems right," manager Darin Sundstrom observes.
Friday's "carpool cinema" begins, predictably, at sunset. The northwest portion of the bowling alley's parking lot has been set aside for family movie-goers. It can accommodate 45 cars, with $10 admission charged per carload. Because of limited capacity, patrons are being asked to register by stopping in or calling Sunset, 218-233-6153.
Sundstrom notes that their patio seating will also debut Friday. They'll be serving traditional movie fare – popcorn – along with nachos, tacos-in-a-bag, hamburgers and the rest of Sunset's menu. Bar service will also be available.
Sunset Lanes reopened June 10 for individual bowling; spring league play, which would have been wrapping up now, was eliminated by pandemic restrictions. That goes for the film, too, produced with a budget of $300 million. Its theatrical run was truncated by the closures.
Sundstrom is working with D&S Beverage to construct the movie screen. It will be affixed to the northwest face of the building. The audience will tune in on their car radios.
Area bowlers, he says, have been thrilled in past weeks by the opportunity to return to the lanes. "They've been really supportive ever since we had to close," Sundstrom says, with take-out orders rolling out of the kitchen. Reopening, though, has brought familiar faces back, with individual bowling from 3 to 10 p.m. Tuesday through Thursday and until 1 a.m. Friday. The lanes are open from noon to 1 a.m. Saturday.
Adult bowlers began buying summer passes almost as soon as Darin and his staff unlocked the door. Younger fans qualify for an even better deal. In past years, Sunset has worked with the D.A.R.E. Program to offer free bowling for students. They're continuing that policy on their own this summer. Bowlers in elementary, middle and high school can bowl one free game per day throughout the rest of the summer.
The popular bowling alley on Highway 75 North sports a somewhat different "feel" due to Minnesota's reopening guidelines. "We've taken out half the tables and chairs," Sundstrom says. That applies both to the bar and dining room and to the lanes themselves. Now just one table serves each pair of lanes, with every other lane idled for proper distancing. A maximum of six may play on each.
When league play resumes this fall – an open question at this point – bowlers will encounter other adjustments. The U.S. Bowling Congress has made some changes, including permitting a team to bowl on the same lane rather than alternating lanes. "That's all we know so far," Sundstrom says. "It all depends on Gov. Walz."
Sundstrom and partners Mike Emerson and Lonnie Thielbar are hoping for the best. Meanwhile, the experiment with what elders call "drive-in movies" – Sunset's contract requires them to be called "carpool cinema" instead – may be carried on after this week.
Sundstrom is talking with the Moorhead Noon Kiwanis Club about taking over and continuing the outdoor showings, perhaps expanding into more of the parking lot. With Kiwanis' focus on children and families, the venerable family movie-going tradition could be a good fit.
"Carpool cinema" may help Sunset Lanes get through the always-slow summer season, but what comes next will determine the business's future – especially now, with Moorhead's second bowling alley, All-Star Bowl, closing at the end of the month. "We're hoping the winter goes well," Sundstrom acknowledges. "We need strong winter seasons to get through the summer. Without that, it would be tough to continue on."