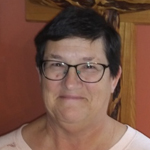 Karen Newman
jokarmid@gmail.com

How might a young Evangelical Lutheran Church in America (ELCA) seminary graduate be persuaded to accept a first ministerial call in rural northwestern Minnesota? According to the Reverend Karla Mickelson, Associate for Synodical Administration for the Northwestern Minnesota Synod, it isn't easy. She explained that newly graduated seminarians today are in high demand with pastor retirements far outstripping the numbers of ordained seminary graduates available to replace them. A 2015 report from the ELCA Research and Evaluation Department projected that in 2019, in the US, approximately 404 ordained pastors would retire and only 207 newly ordained pastors would be available to replace them.
Synodically Authorized Minister (SaM) Kathy Levenhagen, Minister for Community and Leader Engagement on the Northwestern Minnesota Synod staff finds that few seminary graduates are familiar with life in rural areas anymore. She cited urban beliefs that there are no local doctors, no local grocery stores, no local shopping options and no recreational options in rural communities. She explained that these beliefs lead to reluctance to relocate for today's prospective rural ELCA clergy. She acknowledged that married clergy spouses often find that unless they are in a health-related profession, employment opportunities are scarce. Most families require two incomes which makes rural clergy recruitment difficult.
Shortages of ordained clergy are from a new issue in recruiting ELCA pastors. The Growing in Faith to Serve (GIFTS) program began in western North Dakota in 1986 to train lay people to serve as pulpit supply pastors when no ordained clergy were available. The Northwestern Minnesota Synod and the Eastern North Dakota Synod joined to create the School for Lay Ministry in 2011 with similar goals as stated on their website:
The School for Lay Ministry's purpose is to provide adult Christian education in the areas of the Old and New Testament, Lutheran Confessions, Pastoral Care, Worship & Liturgy, and Church History. To do this, we draw on the gifts of seminary professors, those who serve in specialized ministries, and others. The School serves the synods of Northwestern Minnesota and Eastern North Dakota and is open to any person, lay or rostered in the two synods. http://www.eandsynod.org/events/lay-school
While lay leaders may be filling in when pastors go on vacation or are ill, with the shortage of ordained ministry who can provide pastoral services such as communion, weddings, funerals, confirmation and baptisms, a need was discerned to create the SaM certificate program which provides temporary ministerial services until an ordained pastor can be found or ad congregation determines its future viability.
Levenhagen, a synod staff member, is also a twelve-year SaM serving the ELCA congregations of Lake Bronson, Kennedy and Lancaster in northwestern Minnesota. She explained that as schools and businesses disappear in rural communities, often the last local institution remaining is the church. Congregations facing the prospect of closing due to lack of ordained leadership and/or lack of funds to pay a full-time rostered minister, may lift up an individual for approval by the School of Lay Ministry Advisory Committee for participation in the SaM program.
The School of Lay Ministry offers an optional certification program for its participants. Taught by seminary professors and those in specialized ministry positions, curriculum is offered over a two-year period with courses in Old Testament, New Testament, Worship & Liturgy, Pastoral Care, Lutheran Confessions and Church History. Individuals who are approved for certification are required to attend continuing education classes. SaMs may be found serving as interim pastors for churches seeking an ordained pastor, working with an ordained pastor in a multi-point parish setting or providing pulpit supply for ministers who need a temporary substitute.
General qualifications for the SaM program applicants include:
-Membership in an ELCA congregation for at least one year
-Recommendation by the individual's pastor and/or congregation council
-Meeting and interviewing with synod staff and/or synod committee
-Demonstrated ability and willingness to participate in a preparatory program leading to possible service as a SaM or provided satisfactory evidence of prior preparation meeting the SaM program's goals and standards
-Submitted written responses to the questions on the candidacy entrance form
-Provided references within and outside the church
-Authorized the synod to obtain an in-depth background check
The 2020 School for Lay Ministry classes will be held three times during the year on March 7, May 2 and September 26. The March 7th class title is "Cross + Generational Worship. It will be held between the hours of 10 am and 4:30 pm at Lutheran Church of the Cross in Fargo. The cost is $50/person. Registration details may be found at http://www.eandsynod.org/events/lay-school or by calling the Northwestern Minnesota synod office @ 218-299-3019.