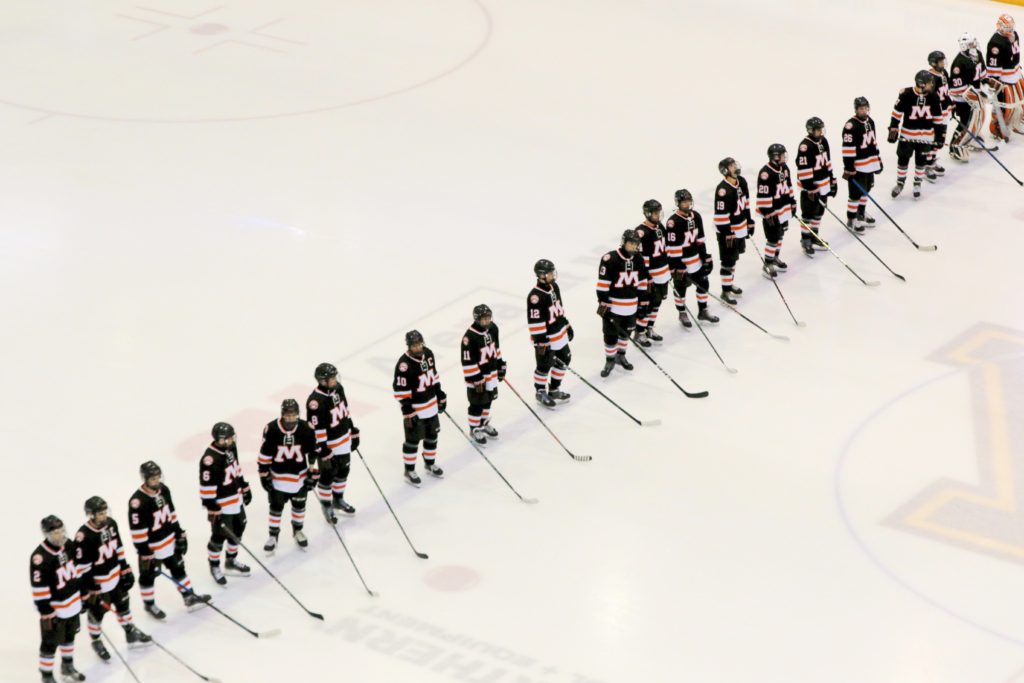 This year's Moorhead Spud Boys Hockey team can boast a number of accomplishments. With 13 seniors having played together since youth hockey, they tallied 21 wins, won the Section 8 2A title and earned Moorhead's 17th trip to the Minnesota State High School League State tournament.
The Spuds received the #4 seed in the tournament and faced off against the eventual state champions, #5 seed Hill-Murray Pioneers in the first round. The Pioneers entered with a 13 game winning streak and one of the hottest teams in the tournament, eventually winning the State Tournament on Saturday night against Eden Prairie.
Hill-Murray controlled the action from the outset and scored twice in the first period. The Pioneer's held the Spud's potent scoring first line in check while putting continuous pressure on the Moorhead defense.
The second period started much the same until a Hill-Murray penalty gave the Spuds a power play. Spud Mr. Hockey finalist Luke Gramer ripped a shot past H-M goalie Remington Keopple to narrow the score to 2-1. With the score narrowed Moorhead hoped to gain some momentum. But less than one minute later Pioneer Sophomore sensation Nick Pierre snared a rebound and shot it past Spud goalie Hudson Hodges. From there on the Pioneer's continued to play almost flawlessly. Forechecking the Spud's and controlling the zone, crisp spot-on passing and great puck handling allowed H-M to control the period. The Pioneers secured the game late in the second period with two additional goals in 14 seconds.
Pioneer dominance in this game was evident as they out shot the Spuds 19-3 in the second period. Hill-Murray's attack was relentless and Moorhead had no answers on this night. The third period was played without a score by either team.
Friday the Spuds moved to consolation play at the U of M's 3M Mariucci Arena, facing off in what some expected to be a semi-final match-up. The Spuds met the #1 seed Andover who lost in the tourneys biggest upset Thursday. Andover proved too much for Moorhead, controlling the game and securing a 4-1 victory over the Spuds.
This year's Spud Hockey Team accomplished a lot on the ice but accomplished a lot more all year long. On the ice, Luke Gramer was a Mr. Hockey finalist, and Hudson Hodges won the Frank Brimsek Goalie of the Year award. They are as a group what high school athletes are all about. Of the 13 seniors Carter Johnson and Kai Holm are valedictorians, and Holm will be attending West Point next year. The team accumulated a 3.72 GPA, while 19 of the 20 members from this squad are multi-sport athletes. And Hodges and Carter Johnson even made honorable mention for the Hockey Hair award.