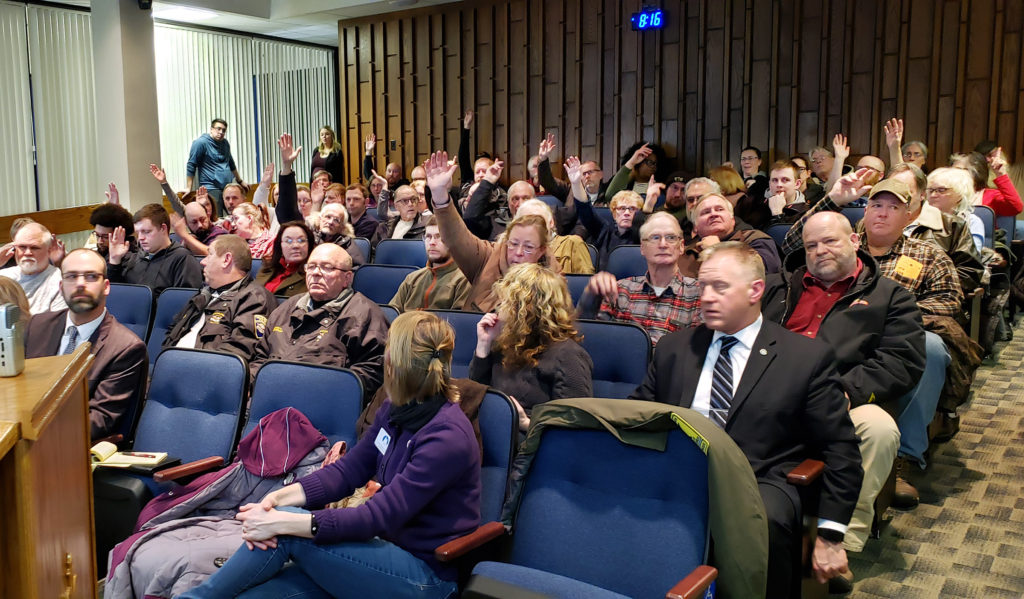 Nancy Edmonds Hanson
hansonnanc@gmail.com

Moorhead, it seems, has become a kind of turkey paradise, with plenty of shelter, a generous menu, and virtually no natural predators to thin the flock.
And that's the problem, say many of the humans who call Moorhead home. A packed house of residents gathered at City Hall Wednesday, Jan. 8, to share their frustration with the flocks that have spread out from the Red River bottoms into neighborhoods and backyards miles away. From the first few birds spotted in the timber 20 years ago, the local population has grown to an estimated 300 or more, often gathered in groups of 35 to 50.
The meeting was chaired by Deputy Chief Tory Jacobson of the Moorhead Police, who are responsible for responding to nuisance complaints … of which there have been notably few, he reported. He said most calls related to turkeys (10 in 2017, 8 in 2018 and 11 in 2019) have been more concerned with protecting nests or chicks. An average of three birds have been killed or injured by traffic each year. "We're looking for community input into a comprehensive wild turkey management plan," he told the gathering. "We know there's a lot of knowledge, passion and interest here tonight. We want to listen."
Once eliminated in Minnesota by overhunting and predators, wild turkeys have come back in a big way since the Department of Natural Resources and National Wild Turkey Federation reintroduced a few Missouri-born birds in southeastern Minnesota in 1971 and 1973. Hunters consider the turkeys – largest of North American game birds – a highly desirable target. But as the growing flocks have followed river valleys toward the north and northwest, they have become a nuisance in many urban areas, where their numbers have exploded. Today the statewide population is estimated at more than 70,000.
One of the local men involved in that relocation was Chris Gulsvig. He observed, "We're seeing the perfect storm in our geographic location. The reason we have a problem is the Red River, plus a major urban population with all the ingredients turkeys need to prosper – shelter from the elements, food and protection from the predators that would control their numbers in the wild. In the words of Bachman-Turner Overdrive, 'You ain't seen nothing yet."
"When we started noticing them, there were just five or six," Drew Kalvoda reported. He lives on Fifth Street South. "Then that little flock grew into a herd, and now a pack. My kids are afraid of them. I thought they were exaggerating until I came around the corner of our house while doing yardwork – and there was an angry 25-pound bird with a five-foot wingspan protecting the chick in front of her.
"They're no longer cute. They've become bold and aggressive, and they're not afraid of anything – cars be damned. We need to learn to manage them before they eat us out of house and home."
Brett Bernath, who lives near Robert Asp School, agreed. "I love the birds. They're beautiful. I could watch them all day. But I didn't choose to live among them."
He described the filth left by the 20 turkeys who roost in his back yard: "It's not like robins' splats. These are dog-sized piles." He added, "I believe some of my neighbors are feeding them."
That was the common thread running through homeowners' accounts. In the areas where turkeys have settled, neighbors are feeding them. Steve Beitelspacher of the city prosecutor's office noted that Moorhead already has an ordinance banning the feeding of deer, either on the ground or at a height of less than five feet, which could be extended to turkeys and other wildlife.
The options for permanent removal are limited, DNR wildlife biologist Mike Oehler noted. Hunting is prohibited in the city, except in certain parts of the Oakport addition administered by the Buffalo-Red River Watershed District. The DNR has issued permits to allow MPD community service officers to deal with individual problem birds, but that's a problem. Jacobson noted the tools for capture are expensive and ineffective: "A $100 net gets chewed up every time. It's not as simple as it sounds."
Oehler said the DNR no longer seeks to move nuisance animals. "We've gotten away from relocating problem animals like bears or coyotes," he explained. "They become a problem wherever you move them – just someone else's problem." The department currently has no requests from other communities that want to take turkeys to establish their own game populations.
Donna Stockrahm, a professor of biosciences at Minnesota State University Moorhead, worked with her students to study the wild turkeys from 2003 to 2015, as their numbers were growing in the urban area: "In the early stages, people were overwhelmingly in favor of them." That project has given way to focusing on controlling geese in the settling ponds near American Crystal Sugar. With federal and state permits and following Humane Society rules, they have treated eggs in nests with corn oil, which prevents them from hatching. The practice has cut down the number of nests from 124 in the first year, 2010, to only five or six today. While the practice would be more difficult with turkeys, who nest in dispersed areas and can replace failed clutches of eggs with fresh ones over a period of five or six weeks, Stockrahm suggested the technique could be worth trying.
After two hours of resident comments, most applauding the turkeys' beauty but urging the city to reduce the nuisance, Jacobson called for a show of hands on two of the more practical suggestions: prohibiting feeding and (if a willing destination can be found) supporting the DNR's relocation of a portion of the local birds. Almost every hand was raised.
Jacobson said more discussions are slated. Cautioning the audience that "some things on this laundry list cost more and may be less effective," he said a plan will be developed "sooner rather than later" and submitted to the city council for review and action. In the meantime, he asked residents to call the police department if their property is damaged or they are assaulted by wild turkeys.