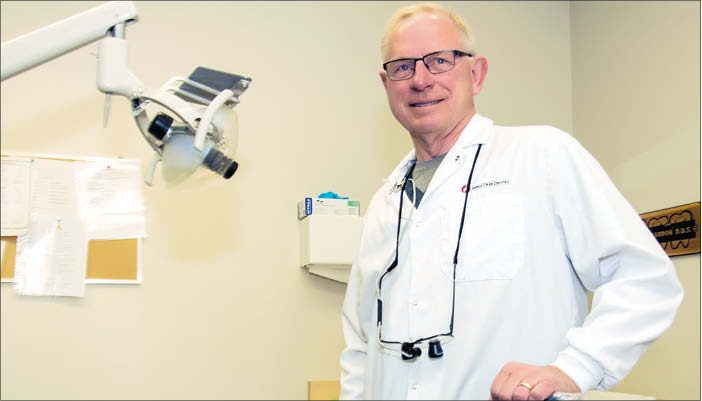 An army of dental professionals and community volunteers will put smiles on thousands of faces here this summer.
Wayne Christianson, the retired Moorhead dentist who heads the mammoth Mission of Mercy, says his corps of 250 dentists, nearly 500 more hygienists and dental assistants, and 600 local volunteers aim to provide one million dollars' worth of pediatric dentistry, oral surgery, filled cavities, bridges and dentures – all free – over the course of two long, long days.
"We focus on people, young and old, who are underserved. They have limited or no access to dental care," he explains. "We ask no questions. If you need dentistry, especially if you're in pain, we will take care of you at no charge."
Sponsored by the Minnesota Dental Association and its North Dakota counterpart, Moorhead's Mission of Mercy is slated for Friday and Saturday, July 22 and 23. Dental professionals will see their first patients at 5 a.m. each day, wrapping up at 5 p.m. … or whenever those waiting for help have all been served.
"Everyone wants to give back," Wayne muses. "There are people in pain out there. Those in our profession happen to have a set of skills that can take it away. Why not?"
He has volunteered for the annual missions since 2012, the same year he sold his Moorhead practice. That's the first year that Minnesota dentists joined the national movement, begun in Virginia in 2000. There, one in five residents was found to lack access to dental care. While the need is probably less than that in Minnesota, Wayne cites a startling statistics: The state ranks 50th, dead last, in its support of services for those who are uninsured and cannot afford them.
"The unmet need is huge," he observes. State Medicaid reimbursement for dental care is currently about 22 cents per dollar of services provided, while average overhead costs for running a practice are an estimated 75 cents. "Professionals just can't afford to take patientswithout the resources for private pay at that rate," he says. "And the reimbursement has been steadily going down for the past 40 years."
Minnesota is one of 32 states where Missions of Mercy are scheduled this year. The $200 to $250 thousand cost is supported by the Minnesota Dental Foundation, Delta Dental, Patterson Dental and donations by organizations and individuals all over the state. Since the first mission in Mankato, sessions have been held in Bemidji and Duluth and for a second time in Mankato. The organization estimates that volunteers have completed more than 32,000 procedures for almost 7,000 children and adults … conservatively valued at more than $4 million.
The mammoth undertaking begins in the wee hours of July 21, the day before the mobile clinic opens its doors. A semi truck loaded with every kind of equipment needed for dentistry will pull up to Concordia's Memorial Auditorium at the break of dawn. Tons of essentials will be unloaded in a few hours – aided in part by a phalanx of Cobber football players – and set up inside, where the floor will be divided into everything from registration and induction areas to curtained-off cubicles where professionals will do their work.
It's first-come, first-served. Wayne says that it's not unlikely that some patients may have camped out overnight, waiting for the doors to open. As the line works its way into the hall on Friday, each person will register by name and address, then be screened for general health and the dental issues that have drawn them. After a session on basic dental hygiene, they'll be escorted to the dental pros addressing their most urgent need. If they have more than one issue – not uncommon – they can return to the back of the line after the first procedure is complete and start all over again.
Wayne and his counterpart, Dr. Brent Holman of the North Dakota Dental Association, head the local committee making arrangements and rounding up volunteers. Some 250 dentists, 100 hygienists and 200 dental assistants will work on patients – among them, 40 dentistry students from the University of Minnesota and the entire hygiene and assistant classes from M State and the State College of Science.
"Civilian" volunteers will handle all the logistics of the event, from parking and registration to escorting patients through the treatment process. Retired Moorhead Police Lt. Bob Larson heads the security detail, with help from local police volunteers. Other leads include Craig Lemieux, manager of Osgood Hornbacher's, hospitality; Rob Campbell, MD, medical triage; Jim Link, pharmacy; and Bob and Paul Kochmann, facilities management.
Wayne has been talking to local service groups and other organizations to solicit volunteers ahead of the public kick-off June 1. Would-be volunteers can sign up online at https://www.mndental.org, then click on the Mission of Mercy link.
It's only one way the Moorhead dentist helps those who can't otherwise afford dental care. He sees patients one or two days a week at Apple Tree Dental in Hawley, one of ten Minnesota clinics set up to care for those who lack access to dentistry. He's also a founding member of the Red River Dental Access Project, a cohort of 45 Fargo-Moorhead dentists who take turns offering free emergency services on Tuesday nights at the Urgent Care Walk-In Dental Clinic in the basement of the old St. Ansgar Hospital facility.
When he was invited to join the first Mission of Mercy four years ago, Wayne said a colleague predicted, "If you go, it will change your life."
"He was right," he says now. "Everyone who gets involved here seems to have their own 'Mission of Mercy moment' when a grateful patient touches your heart and brings tears to your eyes. We are giving people back their smiles."